RICHI Machinery can provide a variety of pellet mill for sale with different capacity. Until now, our wood biomass pellet machine have been exported to more than 120 countries, such as the United States, Canada, Australia, Britain, India, South Africa, Angola, Greece, Romania, Germany, etc.
Wood sawdust and biomass waste are left over from people engaged in agricultural or forestry production. But in fact, these wastes are not widely recovered and reused due to low combustion efficiency. However, with the popularity of pelletizing equipment and the development of the global pellet market, pelletizing wood chips and biomass waste into pellets has become a high-quality biofuel product.
Now the pellet production technology is becoming more and more mature, and the pellet machine is also being upgraded year by year. After so many years of exploration and development, RICHI Machinery has also perfected the production process of wood pellets and various biomass pellets. No matter what your raw material is, our professional sales and technical team will provide you with a complete set of pellet mill plant solutions, including pellet plant layout, pellet production equipment, and various after-sales issues.
RICHI Pellet Machine For Sale
We are one of the best professional pellet machine manufacturer and supplier in China. Customers all over the world choose us not only for the pellet machine, but also for the services – Pellet Mill Solutions. RICHI not only provide pellet mill for sale, but also provide our customers with a complete turnkey project on how to make wood and biomass waste into pellets.
Different raw materials require specialized pellet production equipment. Different outputs also require different models of pellet mills. What RICHI promises to customers is to design the most suitable production plan with the most suitable production equipment according to the raw material and output requirements.
Wood and Biomass Pellet Mill For Sale
Usually RICHI pellet mills can produce any kind of pellets. The biggest factor limiting output is raw materials. For the customer, the more difficult the raw material is to handle, the greater the investment in the entire pellet production line, and vice versa. The following are various types of pellet machines from RICHI Machinery, contact us for more information on pellet production.
MZLH320 series ring die pellet machine ensures high capacity and efficient control of the pelleting process. The wood pellet mill machine is dimensioned for large and designed with exchangeable wear parts.
Power: 37KW
Capacity: 600-800KG/H
Pellet Size: 6-12mm
MZLH350 series pellet making machine has wide adaptability. According to different raw materials, different pellets can be produced. Larger feeders increase production capacity and ensure production efficiency.
Power: 55KW
Capacity: 800-1000KG/H
Pellet Size: 6-12mm
This ring die electric pellet mill is recommended for straw pellet production plant. Due to the power and voltage, it is not recommended for household pelletizing. It is very suitable for making straw pellets, alfalfa pellets, forage pellets, wood sawdust pellets, and other biomass pellets.
Power: 110KW
Capacity: Capacity: 1.5-2T/H
Pellet Size: 6-12mm
The MZLH520 series pellet making machine has a larger ring die and pelletizing chamber to ensure high-efficiency straw pellet production. In order to adapt to lighter raw materials, we have added a forced feeder.
Power: 160KW
Capacity: 3-4T/H
Pellet Size: 6-12mm
MZLH768 series large commercial pellet machine is mainly used for the production of biomass pellets. Enlarged feeders and larger ring die sizes are more suitable for straw pellet plants.
Power: 250KW
Capacity: 5-7T/H
Pellet Size: 6-12mm
RICHI pelletizer for sale. 26 years of pelleting plant experience, professional design and manufacturing team, overseas installation engineers, competitive factory direct sales prices. Advanced pelleting process technology.
Power: 280KW
Capacity: 8-10T/H
Pellet Size: 6-12mm
Complete Wood and Biomass Pellet Machine Specifications
RICHI pellet machine has a wide range of applications. All wood raw materials and biomass raw materials can be used for pelletizing. However, the particularity of the raw materials causes the same pellet machine to produce different pellets. The output is different, the required preparation before pelleting is also different.
Therefore, we can adjust the pellet production equipment according to the customer's different raw materials and the different needs of the output. So, whatever your requirements for a pellet mill, RICHI can meet your needs.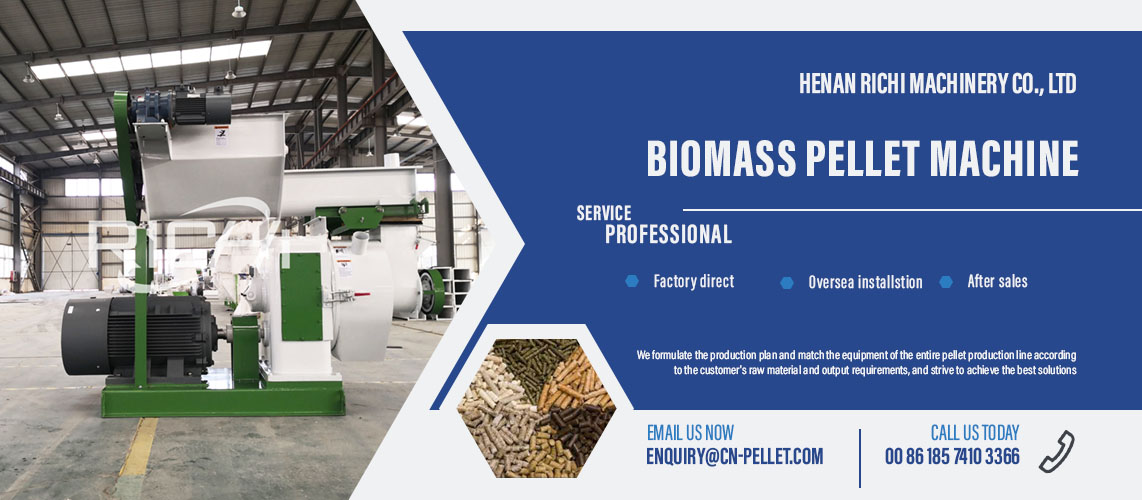 | Model | MZLH320 | MZLH350 | MZLH420 | MZLH520 | MZLH768 | MZLH858 |
| --- | --- | --- | --- | --- | --- | --- |
| Anti-caking Feeder Power | 1.5KW | 1.5KW | 1.5KW | 2.2KW | 3KW | 3KW |
| Forced Feeder Power | 0.55KW | 0.55KW | 0.55KW | 0.75KW | 1KW | 1KW |
| Pellet Machine Power | 37KW | 55KW | 110KW | 160KW | 250KW | 280KW |
| Capacity(wood sawdust,biomass) | 300-400KG/H | 500-700KG/H | 1.0-1.2 T/H | 2.0-2.5 T/H | 2.5-4 T/H | 3-4.5 T/H |
| Capacity(grass,straw) | 600-800KG/H | 800-1000KG/H | 1.5-2 T/H | 3-4 T/H | 5-7 T/H | 8-10 T/H |
| Capacity(organic fertilizer) | 1-2 T/H | 3-4 T/H | 5-6 T/H | 7-8 T/H | 9-10 T/H | 10-12 T/H |
| Final Pellet | 6-12mm | 6-12mm | 6-12mm | 6-12mm | 6-12mm | 6-12mm |
| Weight(KG) | 2500 | 3500 | 4000 | 4500 | 5000 | 5500 |
| Dimension(mm) | 2200*900*1300 | 2500*1100*1600 | 2800*1150*1730 | 3000*1260*1860 | 3300*1500*2000 | 3500*1600*2180 |
Complete Pellet Mill System
If you are going to buy a pellet machine and set up your own pellet factory to make pellets, RICHI will give you guidance in all aspects:
how to identify and select excellent sawdust pellet machine manufacturers; the precautions for purchasing sawdust pellet mill; how to establish your own sawdust pellet production plant ; how to make pellets from sawdust; etc.
Accessories For Pellet Mills
The ring die and the pressing roller are the core parts of the pellet mill, and they are also one of the important factors for the successful pressing of pellets. Therefore, the high-quality ring die and the pressing roller are also indicators of a pellet mill.
RICHI aims to provide high-quality pellet mills and efficient and stable pellet production solutions to customers around the world. Our pellet mills and other pellet production equipment accessories are made of high-grade alloy steel, which greatly improves the stability and durability of the equipment.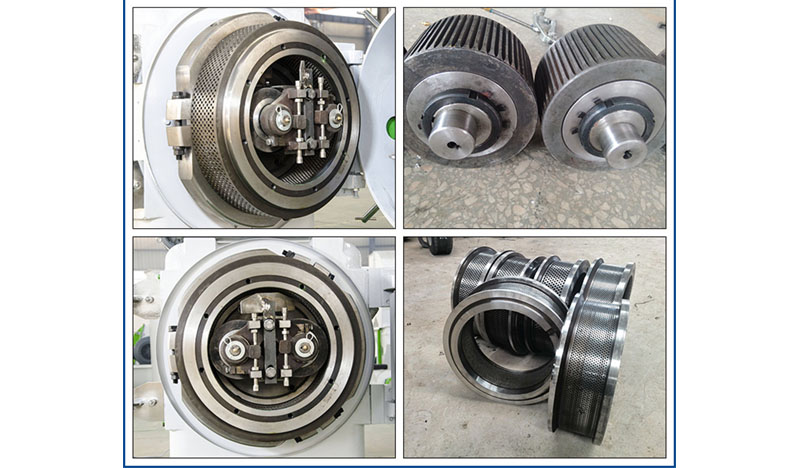 RICHI's Pellet Mills Are Sold All Over The World
After more than 26 years of continuous innovation and development, RICHI has won the trust of customers all over the world. During this period, RICHI MZLH series wood and biomass pellet mills and other pellet production equipment have been sold and installed in more than 120 countries and regions. These include: USA, Canada, Chile, Argentina, Russia, UK, Norway, Sweden, Australia, Angola, South Africa, Italy, Germany, Greece, France, Malaysia, Indonesia, India, Thailand, etc.
Pellet production has been constantly developing and progressing, and the world pellet market has been in a rising stage for a long time. More and more investors are entering and already developing this industry. RICHI's business of pellet mill for sale may be on your side. Contact us to get the latest wood and biomass pellet production solutions and quotations.
Wood Biomass Pellet Production Solutions Cases
Many countries and regions have successfully installed our wood or biomass pellet production lines. The following cases are representative and can be used as a reference. If you plan to build a new pellet production line, then be sure to tell us your needs, including: raw materials, output, site area planning, etc.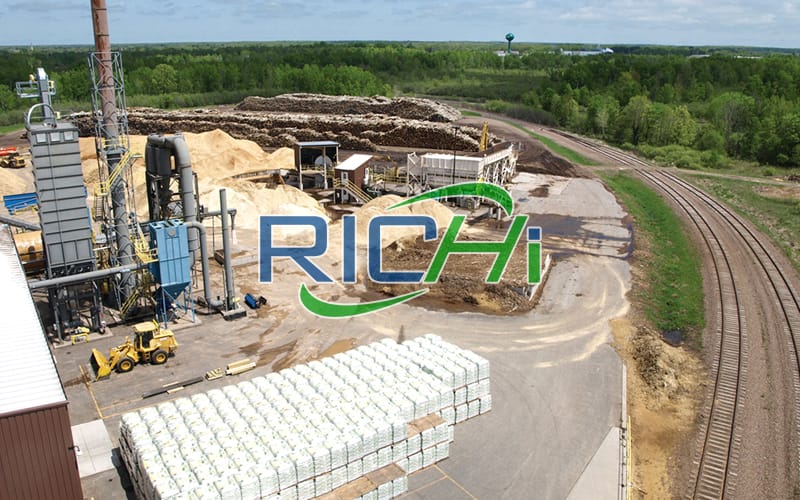 Australia Country Wood Pellet Production Project Project 2-2.5T/H Capacity 173KW Total Power Main machines in this complete wood pellet production
F.A.Q about Pellet Mills for Sale
What is a pellet mill used for?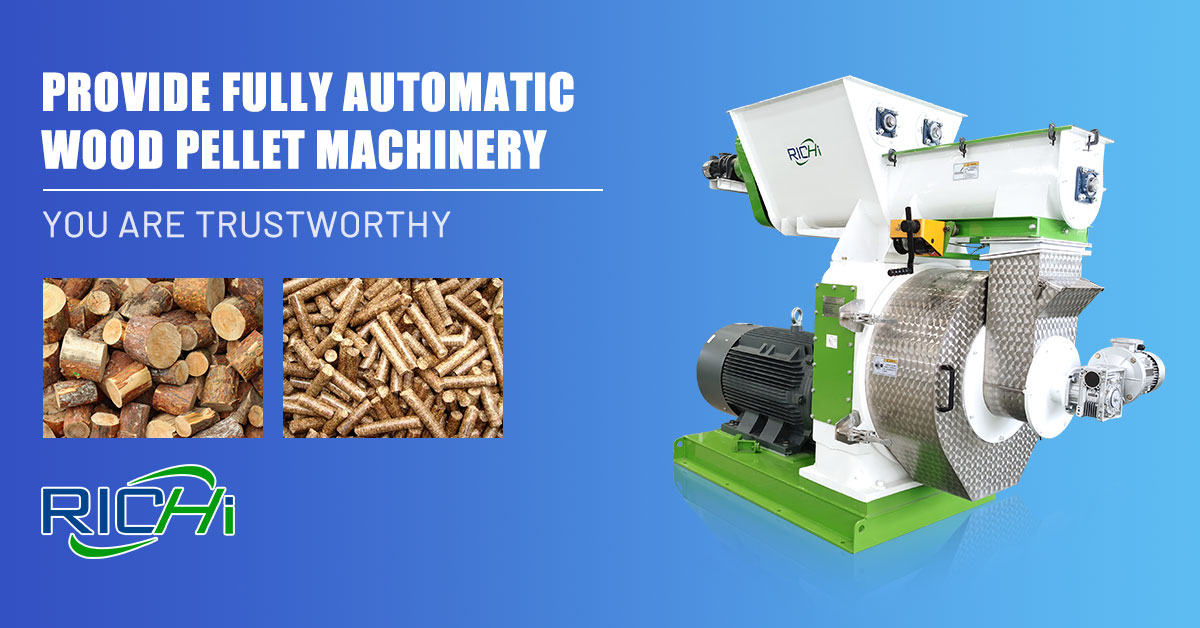 A pellet mill, likewise known as a pellet machine, is a sort of mill or equipment press used to produce pellets from powdered material. Pellet mill are different from grinders in that they integrate fine powder raw material directly into a larger, more uniform mass, rather than damaging large products directly into smaller sized items.
In practical applications, pellet machines are divided into many types, such as: animal feed pellet machines, wood pellet machines, biomass pellet machines, organic fertilizer pellet machines, etc. RICHI Machinery has been engaged in the production and biomass wood pellet mill for sale many years, with rich experience, and can help customers solve pelletizing problems of different raw materials.
How much does a pellet mill cost?
A complete pellet production line contains many things, such as equipment, origin, warehouse, electricity, etc. Therefore, our analysis of the cost of a pellet plant usually includes the following aspects:
Pellet mill cost: 1-5 million US dollars, the complete pellet production line includes but is not limited to the following equipment (chipping machine, crushing machine, drying machine, pellet machine, cooling machine, sieve, packing machine, conveying system, air transportation system, electronic control system, steel structure)
Factory warehouse cost: determined according to the output of the whole production line;
Electricity cost: estimated according to local electricity cost (the power of all equipment in the entire pellet line will exceed 200kw, and the larger the output, the higher the power)
What is the purpose of a pellet mill?
In the application process of a single raw material, the content of available components is very limited, and the density is relatively loose. As a result, it is increasingly found that the density of the available material can be increased by crushing one or more raw materials and then re-pressing them together, thereby improving the utilization rate of materials and accelerating the efficiency of production or other use methods.
How does a small pellet will work?
The main motor drives the bearing system, and the bearing system drives the ring die to rotate rapidly. The material enters the pellet mill chamber, and the ring die drives the material to rotate at a high speed. Since the gap between the ring die and the pressing roller is small, when filling the material, the friction between the high-speed rotating ring die and the material and the pressing roller drives the pressure. The rollers rotate together. At this time, due to high speed and high pressure, the material is extruded from the small hole of the ring die by the pressure roller, and is cut by the cutter to form particles.
How do you make a pellet mill?
Pellet mill body: The fuselage is an independent rectangular cylinder, on which a closed bearing seat is installed to connect with the powder hopper, the powder hopper extends out of the machine body, and a V-shaped chassis is installed under it, which is wide and flat on the ground, so it must be installed at the bottom. , can be arbitrarily placed for indoor use.

Pelleting device: the rotating drum is placed horizontally under the powder hopper, and there are bearing supports at the front and rear. It rotates backwards and forwards through the transmission of the rack. The front bearing cover on the end face is movable. The next wing nut, the bearing cap and the rotating drum can be pulled out. The two ends of the drum are placed with convex square rings, which are embedded in the bearing chamber, so that the oil will not penetrate into the powder and will not be stuck.
Gearbox: It adopts worm gear drive, and the speed ratio is 1:12. The oil can be stored in the box to ensure that the gears are well lubricated and have no noise. There is a sight glass on the box to observe the operation and oil storage. Equipped with an eccentric shaft to drive the rack to reciprocate.
RICHI has been engaged in pellet mill for sale many years and has rich experience. And we have designed, produced and installed pellet production solutions for our customers in 121 countries around the world. Contact us for immediate access to the latest pelletizing solutions and quotes.
How does a pellet plant work?
What is pelletization process?
The principle behind pelletization processes: it integrate powder raw material directly into a larger, more uniform mass.
The whole granulation process is divided into three parts:
Raw material pretreatment section: chipping, crushing,
Pelletization section: pelletizing
Post-granulation treatment section: cooling, screening, (even recycling and re-pelletization)
What is a wood pellet plant?
Full wood pellet production line is made for commercial manufacturing to make biomass pellets from any sort of agro and also forestry wastes with outcome from 1 ton to 40ton per hour. The ended up timber pellets are commonly used for home heating purposes of commercial boilers and big nuclear power plant in addition to home use to reduce the energy dilemma and also satisfy environmentally friendly requirements.
Wood Pellet Plant Flow Chart

Production process of wood pellet plant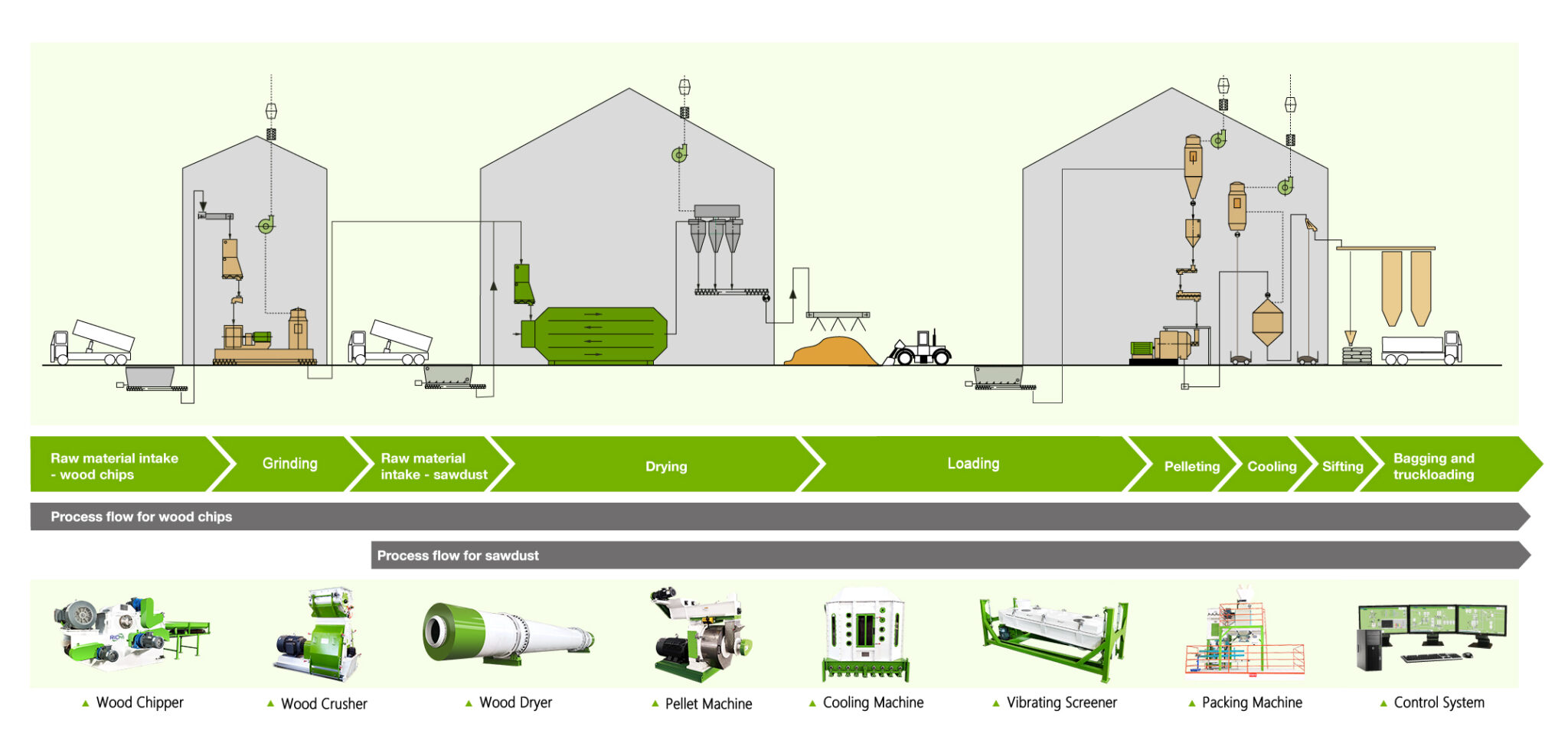 wood chipping machine: If the raw materials are logs or large tree trunks and formwork, pallets, etc., the first step in the granulation work is to cut them into small pieces.
wood crushing machine: Pulverize all the raw materials to a powder below 5mm and wait for pelletizing.
drying machine: The moisture content of the raw material will directly affect the effectiveness, efficiency and yield of pelletizing. Therefore, if the moisture content is too high, a drying cylinder will be used to reduce the moisture content of the raw material within 18%.
pelletizing:

The raw material enters the RICHI pellet mill and is extruded.

cooling machine: The pellets extruded by the wood pelletizer have a high temperature and need to be cooled to room temperature through a cooler.
screening machine: Screen out the correct size pellets and repel the unsuitable recycling.
packing machine: The warehouse where the finished pellets are packaged and shipped.
How do you make wood pellets?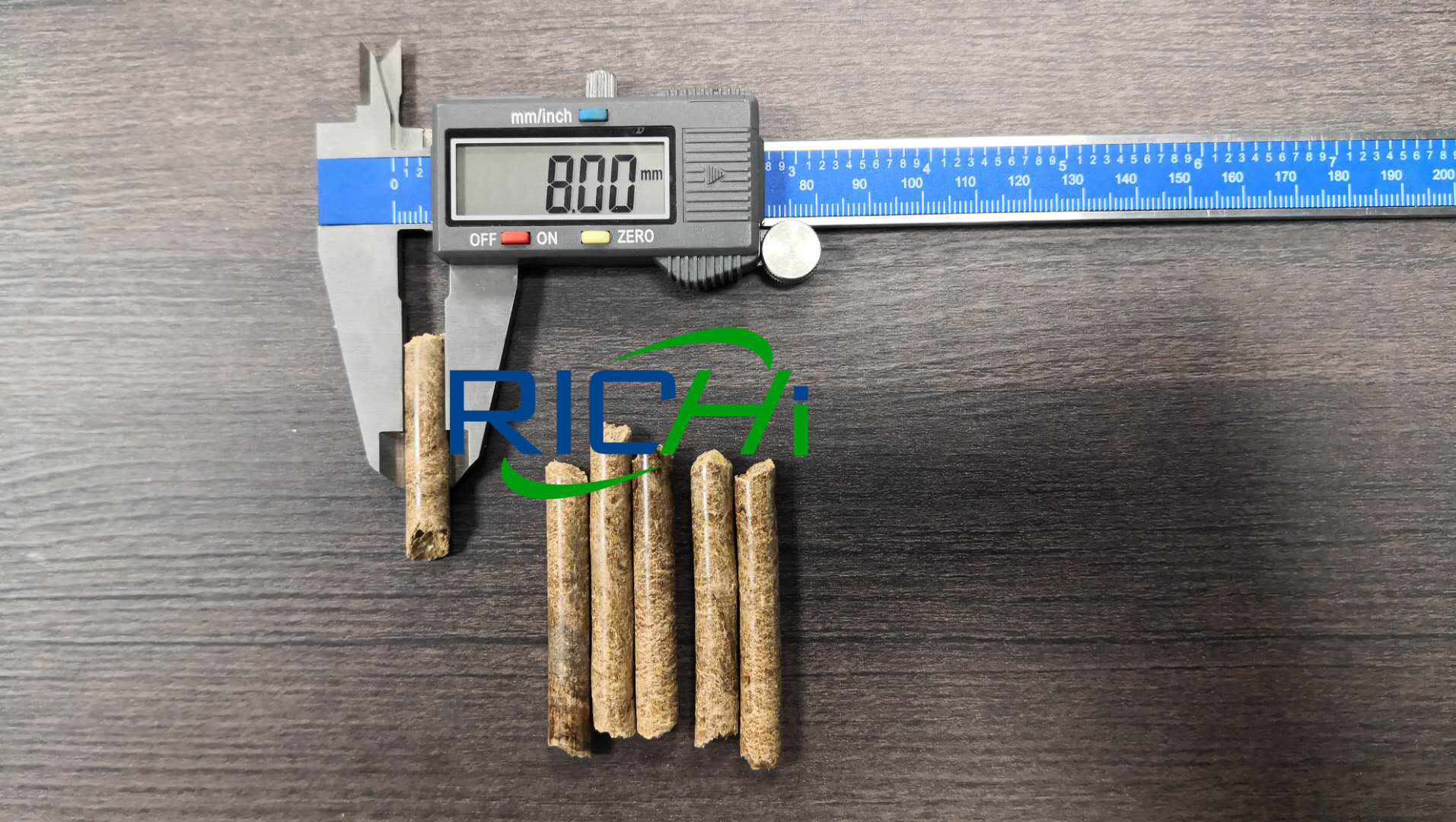 Cut the wood into powder. For logs or large trunks, we need to peel and slice; for small branches, we can directly smash.
Dry wood chips. The moisture content of logs and forest waste is high, and we need to dry these raw materials after crushing them. Excessive moisture in the raw material can cause blockage of the granulator and reduce production efficiency.
Granulation. The wood chips enter the pellet mill and the pellets are discharged from the machine. Experience tells us that in general, wood raw materials can be directly pelletized without any additives.
Cool wood pellets. When they are made from a pellet machine, the pellets are very hot. Therefore, they must be cooled for further packaging or storage.