Top Paper Pellet Making Machine
Leading Manufacturer in China
SIMENS Motor and SKF Bearing.
Advanced Pelletizing Technology.
High Quality & Low Price.
Factory Direct Sales.
Oversea Installation.
Frequency Control Feeder with Anti-caking deviceUpgraded pelleting chamber to improve pelletizing efficiency and facilitate adjustment, maintenance and replacement
Stainless steel conditioner for enhanced corrosion resistance and longer life

304 stainless steel ring die, corrosion resistance, Full automatic CNC ring die drilling machine and vacuum heat treatment technology

Press Roller Section – Made of 40CrMnTi, the structure of the eccentric shaft can better adjust the distance between the ring die and press roller
MZLH320 series ring die paper pellet machine ensures high capacity and efficient control of the pelleting process. The paper pellet machine is dimensioned for large and designed with exchangeable wear parts.
Power: 37KW
Capacity: 600-800KG/H
Pellet Size: 6-12mm
MZLH350 series paper pellet making machine has wide adaptability. According to different raw materials, different pellets can be produced. Larger feeders increase production capacity and ensure production efficiency.
Power: 55KW
Capacity: 800-1000KG/H
Pellet Size: 6-12mm
This ring die electric paper pellet machine is recommended for straw pellet production plant. Due to the power and voltage, it is not recommended for household pelletizing. It is very suitable for making paper pellets, pellet litter, cat litter pellet, wood cat litter, pellet cat litter, wood sawdust pellets, and other biomass pellets.
Power: 110KW
Capacity: Capacity: 1.5-2T/H
Pellet Size: 6-12mm
The MZLH520 series paper pellet making machine has a larger ring die and pelletizing chamber to ensure high-efficiency straw pellet production. In order to adapt to lighter raw materials, we have added a forced feeder.
Power: 160KW
Capacity: 3-4T/H
Pellet Size: 6-12mm
MZLH768 series large commercial paper pellet making machine is mainly used for the production of biomass pellets. Enlarged feeders and larger ring die sizes are more suitable for straw pellet plants.
Power: 250KW
Capacity: 5-7T/H
Pellet Size: 6-12mm
RICHI waste paper pellet machine for sale. 26 years of pelleting plant experience, professional design and manufacturing team, overseas installation engineers, competitive factory direct sales prices. Advanced pelleting process technology.
Power: 280KW
Capacity: 8-10T/H
Pellet Size: 6-12mm
Welcome to Visit RICHI Paper Pellet Machine Factory
Paper Pellet Machine Manufacturer in China, You Can Visit us for More Details of Paper Pellet Making Machine
RICHI Paper Pellet Machine For Sale
RICHI comes in many models of paper pellet making machine for sales. The models of paper pellet machine are MZLH320, MZLH350, MZLH420, MZLH520, MZLH768, MZLH858. Different models of paper pellet machine have varying prices. If you need the paper pellet machine price list, we can send you via email. RICHI paper pellet machine price list includes all parts price, the technical data and the capacity of pellet machine.
Paper pellet making machine can make all types of paper pellet, cat litter pellet, wood pellet litter, etc.
RICHI Machinery is the professional paper pellet machine manufacturer in China with 26+ years of manufacturing experience, 100+ workers in the factory, 300+ processing machinery, and 30+ paper pellet machine patents. We offer full support for both installation and training. We give you all waste paper pellet production solutions.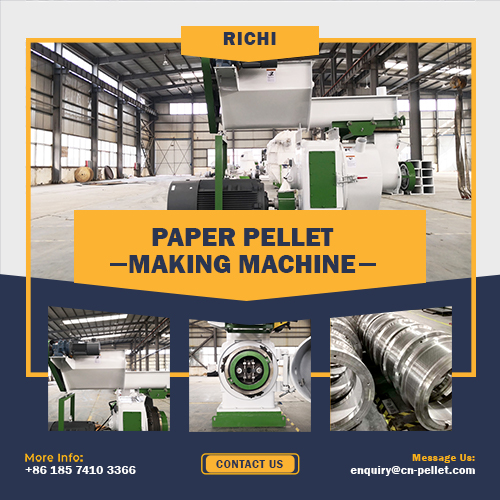 You May Also Like Related RICHI Pellet Machine
Video For Paper Pellet Machine
Sawdust Pellet Mill For Sale – The Related Guide
Sawdust Pellet Mill For Sale South Africa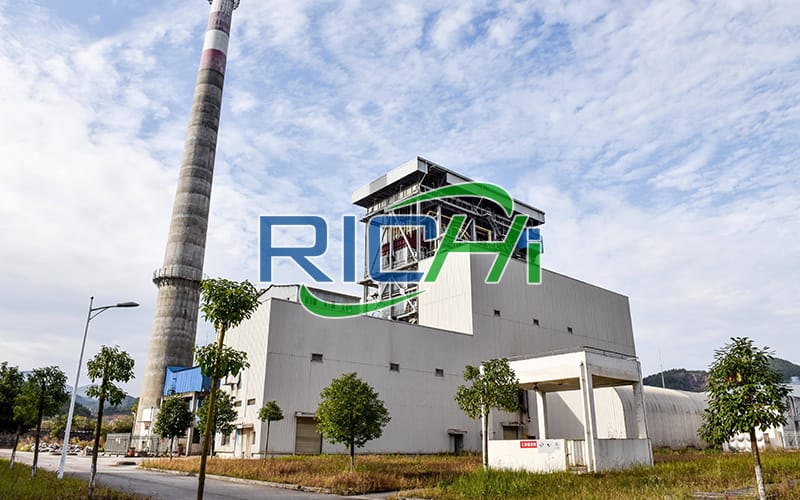 The project is a 10 tons per hour customized automatic sawdust pellet production line with a competitive price. The customer's main production raw materials are some waste wood, which is relatively large and contains impurities such as iron nails.
Therefore, if you want to make wood sawdust pellets, you must first slice and crush them. We have specially customized the cleaning section for customers, which can screen out iron nails, then directly slice and crush the waste wood, and then crush it again with a high-efficiency sawdust hammer mill to meet the granulation requirements.
The core equipment of this sawdust pellet plant is three MZLH768 ring die sawdust pellet press, with a single sawdust pellet mill machine output of about 2.5-4 tons/hour and a power of 250kw. It is our high-performance pelletizing equipment, and it is also the sawdust pelletizing equipment recognized by customers all over the world.
Sawdust Pellet Making Machine in India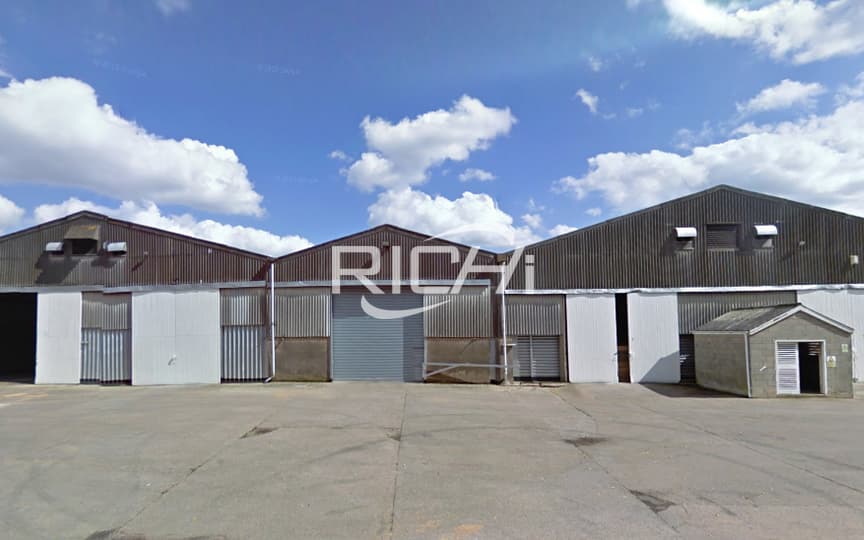 RICHI's professional installation team helps customers install and solve problems in the installation process.
We send two technical and installation engineers to guide the installation;
After installation and commissioning, we have trained the customer's workers how to operate the entire

pellet production line

;
Train workers how to maintain and protect pellet production equipment;
According to the characteristics, we will formulate a complete maintenance rule for you, including how to maintain, when to maintain, and who to maintain;
Our company's after-sales department will regularly call India customers to inquire whether maintenance is needed and give suggestions;
In addition to wearing parts, our company provides 1 year free warranty and permanent free technical support.
Sawdust Pellet Mill For Sale Australia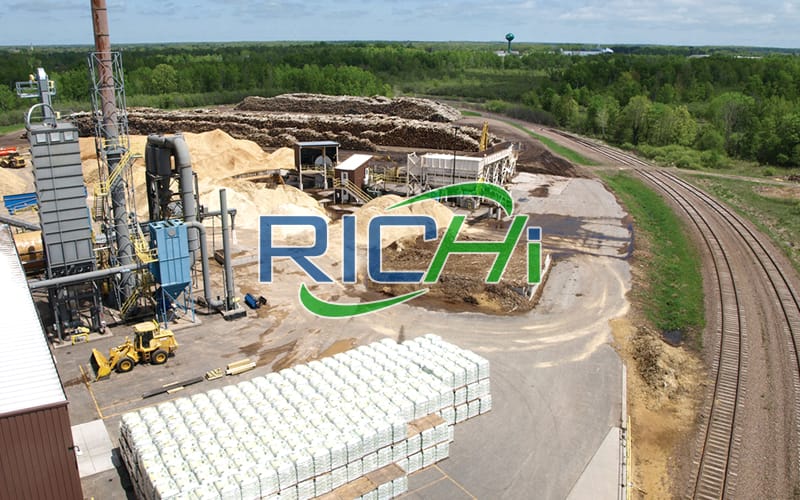 In 2021.01.21, the contract was signed for the 2-2.5t/h customized wood sawdust pellet processing line project. The customer has just entered the biomass pellet fuel processing industry. During the negotiation, we learned that the customer had a negotiation with 12 wood sawdust pellet machine manufacturers. RICHI was the last to enter his list of cooperation, but eventually became the most trusted manufacturer of China's wood biomass pellet production line by customers.
There are many reasons why customers choose RICHI. In addition to RICHI's product quality and brand awareness in many regions, customers also value our full consideration of him. In addition, due to the limited budget of the client, in order to ensure the quality and service life of the equipment configuration of the entire wood sawdust pellet fuel production line, for the pre-treatment stage of wood sawdust, the client purchases second-hand equipment in nearby areas, such as (wood peeling equipment, wood splitting equipment).
In addition, this 2-2.5 tons per hour biomass wood sawdust pellet plant strictly complies with Australian electrical standards. The final sawdust pellet factory also equips each device with an emergency stop system and an independent power switch to ensure safe operation.
How To Make Wood Pellets From Sawdust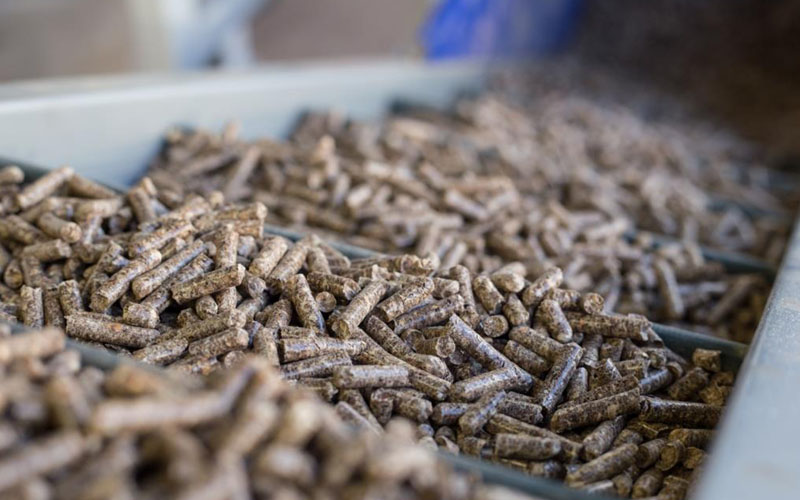 With the development of pelletizing technology, the production of sawdust pellets has become more and more simple, you only need to pay attention to the following points:
Preparation of raw materials. If your raw materials are relatively large wood logs, then in the first step you need equipment that can peel and slice the trees; then use a shredder to crush the relatively large pieces of wood to sawdust below 5mm; if your raw materials are some forest waste, small branches, wood chips, etc., you can crush them directly without chipping.
At this time, attention should be paid to the moisture content of the raw materials, and then if the wood sawdust are too wet, it needs to be dried to a moisture content of about 8-12% (note: the moisture content can be tested with a moisture meter). If you only make small-volume pellets, you can spread the sawdust on the ground and let it air dry.
The process of pelletizing. Start the wood sawdust pellet mill, and evenly send the sawdust into the hopper of the pellet mill machine through the conveying equipment. The rotating ring die and press roller squeeze the sawdust and force it through the die hole. The high pressure will make the pellets compact, and the high temperature will melt the lignin in the wood sawdust and become sticky. Therefore, the wood sawdust produced have high pellet density, smooth and even bright surface.
After the pelleting is completed. The pellets just coming out of the sawdust pellet mill are very hot, so they must be cooled to room temperature before use or storage.
You can find that making pellets with sawdust is just an easy task! But sawdust pellets can save you a lot of costs, and even make you profit. So it is wise to buy a sawdust pellet mill now!
Can I Put Sawdust In A Pellet Stove?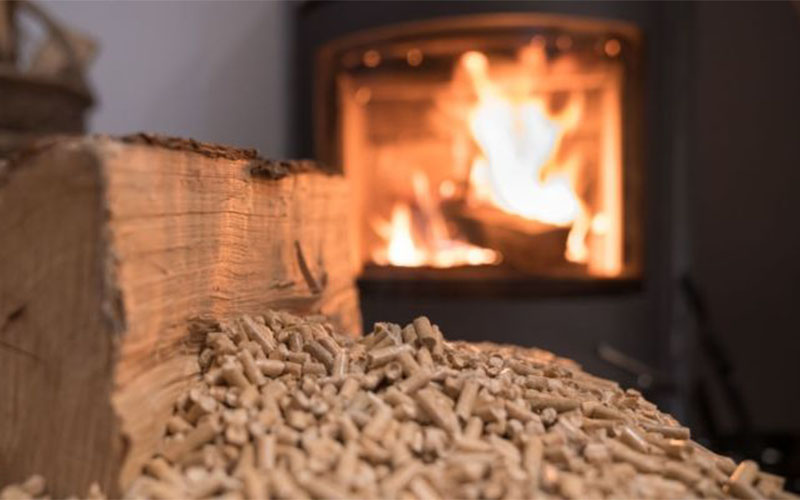 Generally speaking, any stoves can be burned with sawdust. However, in modern society, stoves are divided into many types according to their use and fuel types. Therefore, the fuel of household pellet stoves is sawdust pellets or other types of pellet fuels, such as switchgrass pellets, cherry pits, and alfalfa pellets. On the one hand, the compressed pellets have more combustion value than sawdust; on the other hand, it is more convenient to use pellet fuel at home and there is no dust.
The fuel pellets of household pellet stoves are all made by sawdust pellet mill. This kind of pellet fuel is easier to store; it has a large calorific value; it does not contain sulfur and phosphorus and does not corrode the boiler; it is clean and hygienic, convenient to feed, and reduces the labor intensity of workers. Learn more about pellet maker for pellet stove >>
For all inquiries fill in the form below to send us a brief message, and we will get back to you as soon as possible.