Paper Pellet Mill For Sale
The waste paper pellet machine is mainly used to make burning pellets or cat litter pellets. Making waste paper into granules has become one of the important ways to solve urban waste paper pollution. RICHI Machinery will provide you with a complete waste paper pelleting solution, including turnkey projects from equipment production to installation and use.
SIMENS Motor and SKF Bearing.
Advanced Pelletizing Technology.
High Quality & Low Price.
Factory Direct Sales.
Oversea Installation.
It is important to ensure that the paper pellet mill you choose is designed to handle the type of paper waste you plan to process. Different types of paper may require different processing methods and materials, so it is important to choose a machine that is capable of handling your specific needs. Additionally, it is important to consider the maintenance requirements and operating costs of the paper pellet mill, as well as any safety features that may be included. Ultimately, the choice of a paper pellet mill will depend on a number of factors, including your specific needs and budget, so it is important to do your research and choose a machine that is right for you.
Frequency Control Feeder with Anti-caking deviceUpgraded pelleting chamber to improve pelletizing efficiency and facilitate adjustment, maintenance and replacement
Stainless steel conditioner for enhanced corrosion resistance and longer life

304 stainless steel ring die, corrosion resistance, Full automatic CNC ring die drilling machine and vacuum heat treatment technology

Press Roller Section – Made of 40CrMnTi, the structure of the eccentric shaft can better adjust the distance between the ring die and press roller
MZLH320 series ring die paper pellet machine ensures high capacity and efficient control of the pelleting process. The paper pellet machine is dimensioned for large and designed with exchangeable wear parts.
Power: 37KW
Capacity: 600-800KG/H
Pellet Size: 6-12mm
MZLH350 series paper pellet making machine has wide adaptability. According to different raw materials, different pellets can be produced. Larger feeders increase production capacity and ensure production efficiency.
Power: 55KW
Capacity: 800-1000KG/H
Pellet Size: 6-12mm
This ring die electric paper pellet machine is recommended for straw pellet production plant. Due to the power and voltage, it is not recommended for household pelletizing. It is very suitable for making paper pellets, pellet litter, cat litter pellet, wood cat litter, pellet cat litter, wood sawdust pellets, and other biomass pellets.
Power: 110KW
Capacity: Capacity: 1.5-2T/H
Pellet Size: 6-12mm
The MZLH520 series paper pellet making machine has a larger ring die and pelletizing chamber to ensure high-efficiency straw pellet production. In order to adapt to lighter raw materials, we have added a forced feeder.
Power: 160KW
Capacity: 3-4T/H
Pellet Size: 6-12mm
MZLH768 series large commercial paper pellet making machine is mainly used for the production of biomass pellets. Enlarged feeders and larger ring die sizes are more suitable for straw pellet plants.
Power: 250KW
Capacity: 5-7T/H
Pellet Size: 6-12mm
RICHI waste paper pellet machine for sale. 26 years of pelleting plant experience, professional design and manufacturing team, overseas installation engineers, competitive factory direct sales prices. Advanced pelleting process technology.
Power: 280KW
Capacity: 8-10T/H
Pellet Size: 6-12mm
Welcome to Visit RICHI Paper Pellet Machine Factory
Paper Pellet Machine Manufacturer in China, You Can Visit us for More Details of Paper Pellet Making Machine
RICHI Paper Pellet Machine For Sale
RICHI comes in many models of paper pellet making machine for sales. The models of paper pellet machine are MZLH320, MZLH350, MZLH420, MZLH520, MZLH768, MZLH858. Different models of paper pellet machine have varying prices. If you need the paper pellet machine price list, we can send you via email. RICHI paper pellet machine price list includes all parts price, the technical data and the capacity of pellet machine.
Paper pellet making machine can make all types of paper pellet, cat litter pellet, wood pellet litter, etc.
RICHI Machinery is the professional paper pellet machine manufacturer in China with 26+ years of manufacturing experience, 100+ workers in the factory, 300+ processing machinery, and 30+ paper pellet machine patents. We offer full support for both installation and training. We give you all waste paper pellet production solutions.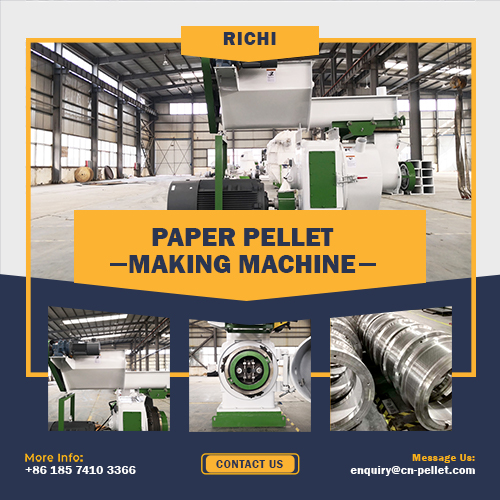 Video For Paper Pellet Machine
You May Also Like Related RICHI Pellet Machine