Hemp Pellet Production Line For Sale
Turn-key Solutions for Hemp Pellet Mill
Hemp pellet production line
All spare parts are from reputable manufacturers
Qualified technical staff on hand 24/7
All machine are manufactured with the latest technologies
RICHI provides customers with a full set of hemp pellet production line, which can produce hemp pellets, lucerne pellets, alfalfa pellets, hay pellets, and other grass materials pellets. Contact us to get the cost of hemp pellet production line.
Hemp Pellet Production Line
The hemp pellet production line is used to produce hemp pellets, alfalfa pellets, lucerne pellets, hay pellets, cattle and horse pellets, even all grass materials pellets. The complete hemp pellet production line includes hemp processing equipment, drying equipment, hemp pellet mill, pellet cooling equipment, and automatic pellet packaging equipment. We provide customers with turnkey projects from raw material processing to final hemp pellets.
RICHI Machinery has fully automatic hemp pellet machine, semi-automatic hemp pellet machine for sale. All the machines are high efficiency and long service life.
Not only supply you high-quality complete hemp pellet production line but best services. Such as full supporting installation and training, 24/7 service, best after-sale service.
Hemp Pellet Production Line
According to the hemp pellet production line
Necessary Equipment For
Complete Hemp Pellet Production Line
Rotor with a special design, with two different hammer screen space to meet the exchange of different granularity;
Hammer's face hard surfacing materials, extended service life;
Door interlock device operation to ensure a safe operation when the motor does not start to open the door;
Rotor motor and the mill installed in the same heavy-duty base, using the pin coupling Direct transmission, rotor balancing efficacy through, the work can be positive and negative.
Diameter: According to customer hemp pellet production line output
According to the type of raw material and the moisture content of the material
Speed: 3-8 r/min
Inlet temperature≤700℃
The drum dryer dries the moisture of the material from 50% to 15%
The MZLH series hemp pellet making machine has a larger ring die and pelletizing chamber to ensure high-efficiency hemp pellets production. In order to adapt to lighter raw materials, we have added a forced feeder.
Power: 30-300KW
Capacity: 0.5-10T/H
Hemp Pellets: 6-12mm
The cooling aer and reverse motion of grain materials ensures the gradual cooling of materials upwards, and aetter cooling result than other products;
The main parts, adopting mechanical bending, rivet joint and sealing, features good airproof ability;
With its large capacity, even huge rain materials can be turned out, and the automation degree is high;
Widely used foe cooling of various materials such as the pelleting feed, extruding feed mash material and so on, especially using for the extruding feed.
Unique anti-shock device to ensure measurement accuracy, fast packing.
In external regulation machinery, it is convenient to repair.
The key parts are imported, long service life.
Welcome to Visit RICHI Hemp Pellet Production Line
RICHI supply complete hemp pellets production line. The top hemp pellet mill manufacturer in China, Contact Us get the best price.
RICHI Hemp Pellet Production Line For Sale
The key equipment of complete hemp pellet production line is crusher, dryer, hemp pellet mill, hemp pellets cooling machine, hemp pellets packing machine. Different hemp pelletizing solutions are available. Leave us a message, and we will design a reasonable hemp pellet production line for you according to the needs and budgets. Learn more cost of hemp pellet production line.
3D Process Drawing Of Hemp Pellet Production Line
Our hemp pellets production solutions have spread all over the world.
Our hemp pellet production line can process many kinds of materials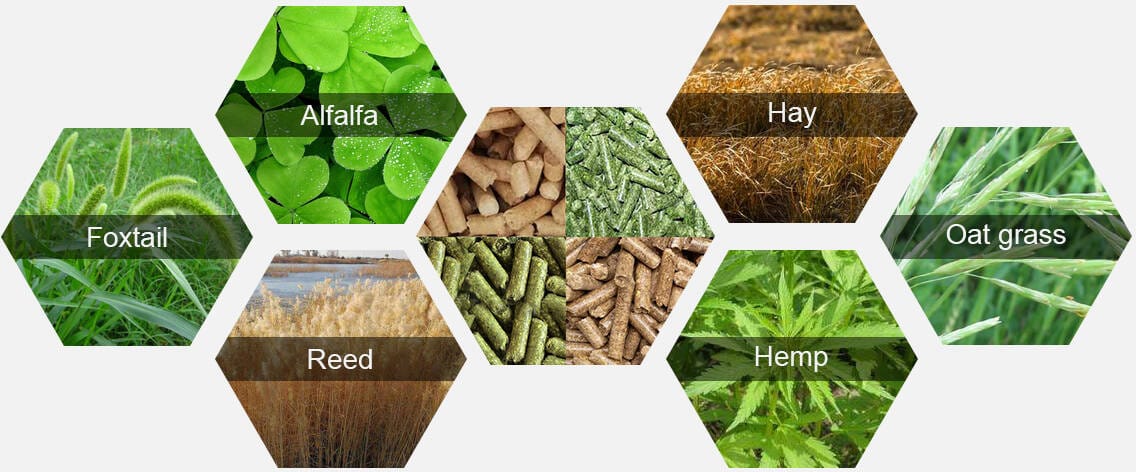 The complete hemp pellet production line can process alfalfa, lucerne, caragana, grass, hay, straw, sunflower stalks, cotton stalks, tobacco waste, mustard stalks, jute waste, etc.
So far, we have established many hemp pellet production lines for sale all over the world. Our customers are distributed in the United States, Canada, Britain, Russia, France, Greece, Angola, South Africa, Australia, Argentina, Mexico, Chile, Peru, etc.
If you want to build a grass materials pellets production plant, contact us, just tell us your raw materials and output requirements, and we can customize a suitable pellet production line for you.
Video For Hemp Pellet Production Line
Hemp pellets are made from the complete hemp pellet production line. They are a 100% natural supplementary feed in practical pellet form. They contain hemp leaves and hemp flowers with their natural CBD content.
Hemp pellets are ideal for horses. Due to their supportive properties for a well-functioning immune system, hemp pellets can be a useful supplement for clinical conditions such as inflammation and infections. Organic hemp pellets also have a positive effect on digestion (e.g. in cases of faecal water).
Horse hemp pellets can be used both as an adjunct to therapy and as a preventive measure. Horse hemp can also be used as a vital supplement for horses with micronutrient deficiencies, old horses or horses undergoing a change of coat.
How are hemp pellets made?
Hemp pellets are made from a complete hemp pellet production line. The whole production process of hemp pellets has the following steps:
Crushing
Drying
Pelletizing
Cooling
Packing
How do you use hemp pellets?
Organic hemp pellets are now increasingly used to improve the overall health of horses! Although not a traditional horse supplement, cannabis has shown its ability to relieve horse joint pain and inflammation, support horse cardiovascular health, improve the condition of horse skin, fur and hooves, and even act as a digestive aid for horses.
These impressive benefits come from the omega fatty acids contained in hemp, whose fatty acid composition is similar to fish oil, making hemp an environmentally friendly alternative to this most popular source of omega-3. Hemp also provides high levels of vitamins C and E, and a balanced amino acid profile.
Because of this, hemp pellets have become more and more popular. RICHI Machinery is a professional manufacturer and supplier of hemp pellet production line equipment. If you are interested in this, maybe RICHI Machinery is a good choice.
Can you burn hemp for heat?
Winter is coming, and with it comes the demand for reliable heat sources. Compared to electricity or other fuels, wood chip stoves are becoming popular because of their lower cost.
This is where hemp fuel pellets come in. Hemp pellets produce approximately 2% of ash and can be used in various pellet burners on the market today. Compared with wood pellets, hemp is less corrosive to combustion and produces less ash. The product comes from fragments of cannabis stems and is unlikely to contain any other materials that may cause a decrease in quality.
The fuel pellet market is currently dominated by high-quality wood pellets, and some niche companies also provide straw pellets and straw pellets. However, the supply of waste wood for fuel pellets is limited, grass and straw pellets produce more ash, coupled with clinker and corrosion problems, so many stoves and boilers cannot use them.
As a substitute for other fuel pellets, hemp pellets are undoubtedly a good choice. Now the hemp pellet production lines are increasing year by year all over the world. Not only the growth of the horse breeding market, but also the diversity of the fuel pellets market.