Welcome to RICHI Machinery co., ltd
Biomass Pellet Plant For Sale
With the popularization of biomass fuel pellets, biomass pellets have increasingly become an important fuel for family life (heating pellets for pellet stove) and industrial production (wood pellet biomass power plant), and biomass pellets have become an important energy commodity in the world. Therefore, the construction of a biomass pellet plant has become profitable and increasingly popular.
What is a biomass pellet plant? Simply put, the main task of the biomass pellet plant is all the biomass raw materials pellet manufacturing.
Now the new biomass pellet plant design can meet the multi-function and wider application range. In addition to raw materials with special properties, for general raw materials, such as forest waste (logs, branches, planks), agricultural waste (straw, rice husk, grass), urban waste (waste paper, meal leftovers), other wastes (husks, fibers, animal manure), etc., the pelletizing process of these raw materials basically includes crushing, drying, pelletizing, cooling and packaging.
Therefore, the following list is the main production equipment of the biomass pellet plant. Of course, the whole biomass pellet production line has many other auxiliary equipment besides these main production equipment. If you are interested in this biomass pellets industry and want to establish a biomass pellet factory, contact us to get a complete biomass pellet plant equipment list and quotation.
Biomass pellet manufacturing
1-40TPH<Can be customized>
According to biomass pellet equipment
Main Equipment of Biomass Pellet Plant
Model: SFSP56*40/SFSP66*60/SFSP66*80/SFSP66*100
Capacity: 3-5T/H, 6-9T/H, 10-13T/H, 12-16T/H
Raw Materials: all the biomass raw materials

Main Application Scenario: raw material crushing section of biomass pellet plant
Brand Name: RICHI Dryer Machine
Model: ф1200*120000, ф1500*150000, ф1800*180000, ф2400*100000, ф2400*100000*3
Application: Applicable to low-temperature continuous drying material in large quantity, such as sawdust, wood chips, grass, straw, hemp, hops, dregs and etc.

Main Application Scenario: raw material drying section of biomass pellet plant
The biomass pellet making machine is the core production equipment of the biomass pellet plant. It consists of feeder, conditioner, pelletizing chamber, ring die and pressure roller, core shaft, motor and other components, which play a decisive role in pellet quality and output.
Power: 30-300KW
Capacity: 0.5-10T/H
Pellet Size: 6-12mm
Model: SKLN11*11, SKLN14*14, SKLN17*17, SKLN20*20, SKLN24*24
Capacity: 1.5-2T/H, 3-5T/H, 5-8T/H, 9-12T/H, 13-18T/H
Application: Cooling of high temperature pellet after pelleting

Main Application Scenario: biomass pellet plant post-processing section
Brand Name: RICHI Wood Pellet Packing Machine
Model: DCS-C50/D, DCS-A50/D, DCS-B50/D, DCS-B50/S, DCS-A50/Y
Application: Mainly used in biomass pellet plant. As the last step of the equipment, the finished product is packaged for storage and transportation.

Main Application Scenario: finished product packaging section of biomass pellet production line
How Does A Biomass Pellet Plant Work?
The complete biomass pellet factory production process includes the following steps, which are for reference only.
Preparation of raw materials. At least there must be a warehouse or vacant space for the storage of raw materials.
Processing of raw materials. There will be slicing equipment, crushing equipment, and drying equipment in this section, and the specific equipment configuration is determined according to the properties of the raw materials.
Pelleting section. The biomass pellet making machine is the core equipment of the entire biomass pellet plant, which determines the quality and output of biomass pellet manufacturing.
Cooling of biomass pellets. The temperature of the biomass pellets coming out of the biomass pelletizer is very high, and cooling equipment is needed to reduce the biomass pellets to below room temperature.
Packaging of finished products. According to the output, we can provide customers with ordinary automatic packing system (about 50kg per bag), or large pellets packing system with one ton per bag.
How Do I Start A Biomass Pellet Manufacturing Business?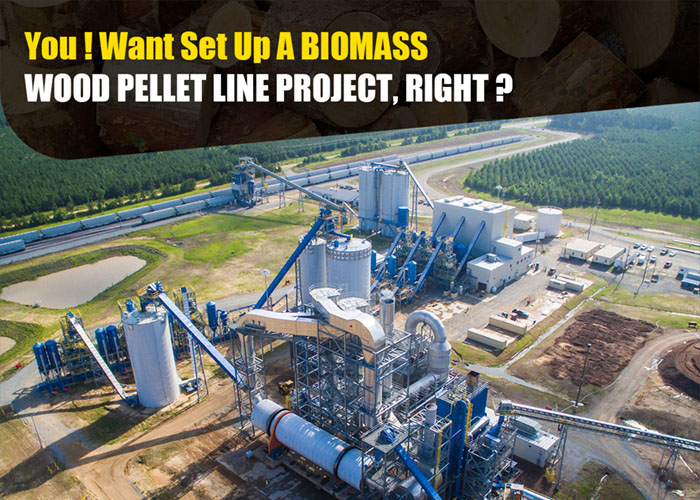 Biomass Pellet Plant Investment Cost
Want to startup biomass pellet factory business? Contact us for biomass pellet plant investment cost and biomass pellet plant production cost.
Biomass Pellet Plant Design & Manufacturer - RICHI
We are a professional manufacturer and supplier of biomass pellet manufacturing plant for sale. So far, we have designed and installed more than hundreds of biomass pellet plant solutions for customers all over the world.
What Can We Do For Customers About Biomass Pellet Plant?
Looking for biomass pellet production equipment manufacturers? Want to start your own biomass pellet manufacturing plant business? RICHI will help you to startup biomass pellet factory business.
Biomass Pellet Plant Solutions From RICHI Machinery
"After comparing some pellet mill companies, we decide to purchase RICHI products. Delivery, installation, operation and so on every detail, RICHI is doing very well."
"We are satisfied with the entire service, which laid a solid foundation for our future cooperation with Henan Richi Machinery Co., Ltd."
"RICHI's biomass pellet plant solutions have reached my expected capacity and solved my biomass pellets manufacturing problem."