Top Textile Cord Pellet Machine Manufacturer
Textile cord pellet machine is the result of RICHI Machinery's long-term goal of innovation and development. The customer's raw materials are very special, but we did not give up. After continuous attempts, we solved the problem of textile cord granulation.
Similarly, if your raw materials are also very special, and you want to granulate them for some special fields. Please contact us, we will try our best to help you design a reasonable and practical pellet production plan.
Famous Brand Parts: Siemens, Schneider, Omron.
Full Support Installation and Training
Ensure Delivery on Time
Textile Cord Pellet Machine for Sale
Textile Cord Pellet Making Machine in China
Textile Cord Pellet Machine
Not only produce textile cord pellets, but also produce efb pellets, and all the biomass pellets.
All the ring die of textile cord pellet machine can be changed easily.
Provide complete pellet production plant and turnkey pellet solutions.
Advanced Technology and Competitive Factory Price
Contact us to get your textile cord pellet making machine price today.
MZLH320 series ring die textile cord pellet machine ensures high capacity and efficient control of the pelleting process. The textile cord pellet machine is dimensioned for large and designed with exchangeable wear parts.
Power: 37KW
Capacity: 600-800KG/H
Pellet Size: 6-12mm
MZLH350 series textile cord pellet making machine has wide adaptability. According to different raw materials, different pellets can be produced. Larger feeders increase production capacity and ensure production efficiency.
Power: 55KW
Capacity: 800-1000KG/H
Pellet Size: 6-12mm
This ring die electric textile cord pellet machine is recommended for textile cord pellet production plant. Due to the power and voltage, it is not recommended for household pelletizing. It is very suitable for making textile cord pellets, alfalfa pellets, forage pellets, wood sawdust pellets, and other biomass pellets.
Power: 110KW
Capacity: Capacity: 1.5-2T/H
Pellet Size: 6-12mm
The MZLH520 series textile cord pellet machine has a larger ring die and pelletizing chamber to ensure high-efficiency straw pellet production. In order to adapt to lighter raw materials, we have added a forced feeder.
Power: 160KW
Capacity: 3-4T/H
Pellet Size: 6-12mm
MZLH768 series large commercial textile cord pellet machine is mainly used for the production of biomass pellets. Enlarged feeders and larger ring die sizes are more suitable for textile cord pellet plants.
Power: 250KW
Capacity: 5-7T/H
Pellet Size: 6-12mm
RICHI textile cord pellet machine for sale. 26 years of pelleting plant experience, professional design and manufacturing team, overseas installation engineers, competitive factory direct sales prices. Advanced pelleting process technology.
Power: 280KW
Capacity: 8-10T/H
Pellet Size: 6-12mm
Welcome to Visit RICHI Textile Cord Pellet Machine Factory
Textile cord pellet machine factory in China, choose your machine. Contact us and visit us. We supply the pick-up service from the airport.
RICHI Textile Cord Pellet Machine For Sale
RICHI is proud to manufacture and supply the most popular textile cord pellet machine. It has unparalleled automation technology, can produce 0.5-10 tons of pellets per hour, and can be customized according to your needs. This is why many customers choose RICHI.
Our textile cord pellet machine is mainly used for commercial use in large pellet manufacturing factories. The machine has a reasonable design, a sturdy and durable frame, and each part is made of high-standard steel. More importantly: we are ready to troubleshoot your machine at any time.
So, if you want to buy a high-quality textile cord pellet machine, you can contact us at any time. We all offer competitive factory prices.
If you want to get any biomass pellet machine price from RICHI, you can contact us today.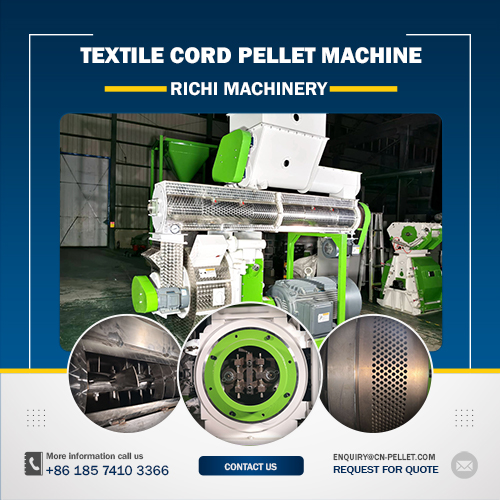 Video For Textile Cord Pellet Machine
You May Also Like Related RICHI Pellet Machine