Alfalfa Pellet Production Line For Sale
Turn-key Solutions for Alfalfa Pellet Mill
Alfalfa pellet production line
How to make alfalfa pellets
How to make cattle feed pellets
How to feed alfalfa pellets
RICHI provides customers with a full set of alfalfa pellet production lines to produce alfalfa pellets, lucerne pellets, hay pellets, and cattle feed pellets. Contact us to get the price of alfalfa pellet production line.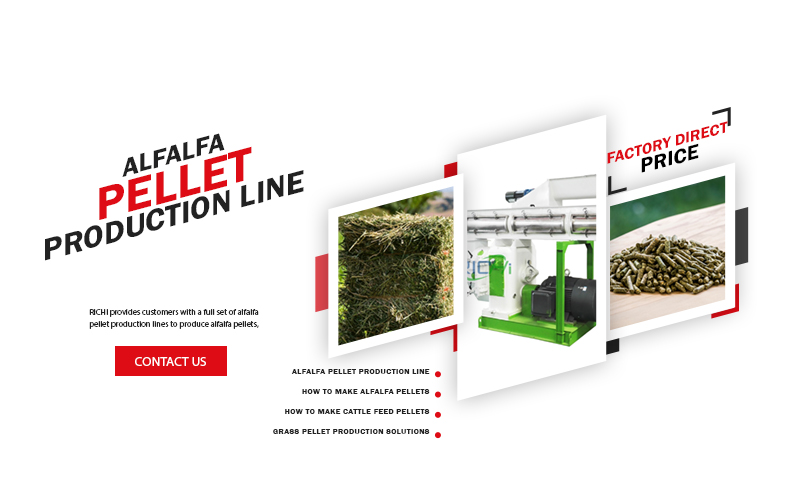 Alfalfa Pellet Production Line
The alfalfa pellet production line is used to produce alfalfa pellets, lucerne pellets, hay pellets, grass pellets and cattle feed pellets. The complete alfalfa pellet production line includes alfalfa grass processing equipment, drying equipment, alfalfa pellet mill, pellet cooling equipment, and automatic pellet packaging equipment. We provide customers with turnkey projects from raw material processing to final alfalfa pellets.
RICHI Machinery has fully automatic alfalfa pellet machine, semi-automatic alfalfa pellet machine for sale. All the machines are high efficiency and long service life.
Not only supply you high-quality alfalfa pellet making machine but best services. Such as full supporting installation and training, 24/7 service, best after-sale service.
Alfalfa Pellet Production Line
According to the alfalfa pellet production line
Necessary Equipment For
Complete Alfalfa Pellet Production Line
Bale breaking machine for the processing of pre-treatment stage of the alfalfa, to break a bundle of alfalfa, make it easier for the following crushing section
High-precision rotor balancing to ensure smooth operation, lower noise, better performance
Use imported bearings, making it suitable for longer life expectancy, lower maintenance costs
For round bales or square bales of alfalfa
Rotor with a special design, with two different hammer screen space to meet the exchange of different granularity;
Hammer's face hard surfacing materials, extended service life;
Door interlock device operation to ensure a safe operation when the motor does not start to open the door;
Rotor motor and the mill installed in the same heavy-duty base, using the pin coupling Direct transmission, rotor balancing efficacy through, the work can be positive and negative.
Diameter: According to customer alfalfa pellet production line output
According to the type of raw material and the moisture content of the material
Speed: 3-8 r/min
Inlet temperature≤700℃
The drum dryer dries the moisture of the material from 50% to 15%
The MZLH series alfalfa pellet making machine has a larger ring die and pelletizing chamber to ensure high-efficiency alfalfa pellets production. In order to adapt to lighter raw materials, we have added a forced feeder.
Power: 30-300KW
Capacity: 0.5-10T/H
Alfalfa Pellets: 6-12mm
The cooling aer and reverse motion of grain materials ensures the gradual cooling of materials upwards, and aetter cooling result than other products;
The main parts, adopting mechanical bending ,rivet joint and sealing, features good airproof ability;
With its large capacity, even huge rain materials can be turned out, and the automation degree is high;
Widely used foe cooling of various materials such as the pelleting feed,extruding feedmmash material and so on,Especially using for the extruding feed.
Unique anti-shock device to ensure measurement accuracy, fast packing.
In external regulation machinery, it is convenient to repair.
The key parts are imported, long service life.
Welcome to Visit RICHI Alfalfa Pellet Production Line
RICHI supply complete alfalfa pellets production line.The top alfalfa pellet mill manufacturer in China, Contact Us get the best price.
RICHI Alfalfa Pellet Production Line For Sale
The key equipment of complete alfalfa pellet production line is crusher, dryer, alfalfa pellet mill, alfalfa pellets cooling machine, alfalfa pellets packing machine. Different alfalfa pelletizing solutions are available. Leave us a message, and we will design a reasonable alfalfa pellet production line for you according to the needs and budgets. Learn more cost of alfalfa pellet production line.
3D Process Drawing Of Alfalfa Pellet Production Line
Our alfalfa pellets production solutions have spread all over the world.
Our alfalfa pellet production line can process many kinds of materials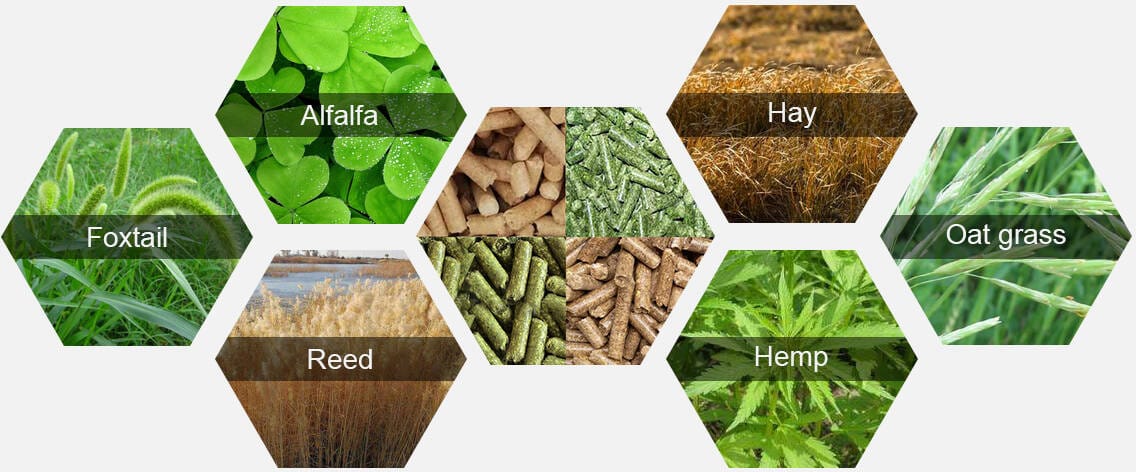 The complete alfalfa pellet production line can process alfalfa, lucerne, caragana, grass, hay, straw, sunflower stalks, cotton stalks, tobacco waste, mustard stalks, jute waste, etc.
So far, we have established many alfalfa pellet production lines for sale all over the world. Our customers are distributed in the United States, Canada, Britain, Russia, France, Greece, Angola, South Africa, Australia, Argentina, Mexico, Chile, Peru, etc.
If you want to build a grass pellet plant, contact us, just tell us your raw materials and output requirements, and we can customize a pellet production line for you.
Video For Alfalfa Pellet Production Line
Wood chips are small and medium-sized woods formed by cutting or shredding larger woods (such as trees, branches, logging residues, stumps, roots, and wood waste). Wood chips can be used as biomass solid fuel.

However, in order to improve the utilization of wood and wood raw materials, wood chips are usually made into cylindrical pellets with a size of 6-12mm through a wood pellet machine, which is usually used for daily heating, industrial boiler fuel, and power plant fuel.

Through the slicer, wood raw materials such as logs, templates, branches and so on can be crushed into wood chips for the next step of processing. RICHI is a professional wood chipping machine manufacturer. If you want to buy a wood chipping machine, please contact us for a quote.
Which is the best wood chipper?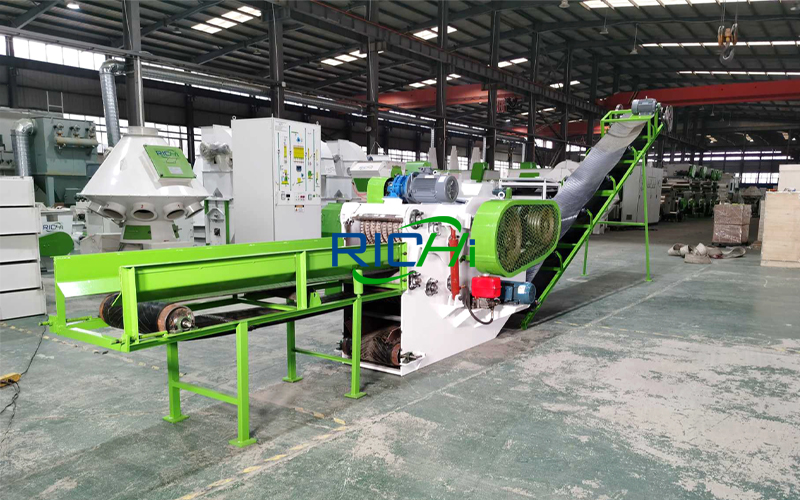 According to the different feeding methods, wood chipper can be divided into two methods: flat feeding and oblique feeding. The choice of feeding method requires customers to decide according to their own needs. (Production line mode and raw materials also affect the choice of slicer.)
The wood chipper is divided into disc wood chipping machine and drum wood chipping machine according to the structure type:
In order to meet the different requirements of the wood chip length in the papermaking, fiberboard, and particleboard industries, the disc wood chipping machine can adjust the length of the wood chip within a certain range. The structure is compact and reasonable, the operation is simple, the production capacity is large, the qualified rate of wood chips is high, and the energy consumption per unit wood chip output is low. It is ideal equipment for producing wood chips.
Drum wood chipping machines are more widely used in wood pellet production lines. It is mainly reflected in the larger feed size and higher work efficiency. It can cut logs and small-diameter wood into high-quality industrial wood chips with uniform length, flat cuts, and uniform thickness. It can also cut branches, boards, etc.
RICHI is a professional manufacturer and exporter of pellet production equipment in China. Not only can we provide professional drum wood chipping machines and wood pelletizers, but we also provide customers with excellent pellet solutions for turnkey projects.
How much does wood chipping machine cost?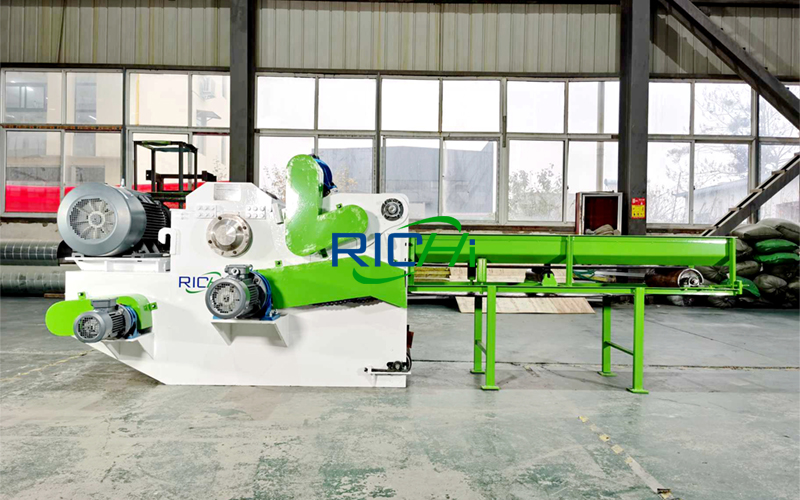 Well, the price of a wood chipping machine depends on several factors. The most common one is the structure category. Here, we have disc wood chipper and drum wood chipper. If you use it on the wood pellet production line, then we recommend the drum wood chipper, which is more efficient and has a larger output.
Similarly, raw materials also determine your choice. If your raw materials are logs, such as directional cultivated trees, because of their size, you have to choose a drum wood chipper, which can directly crush the logs into wood chips.
In addition, prices vary depending on your continent. This is because the freight is different (the price of ocean freight is different every day). That being said, you can contact us or send an inquiry so that we can send you a quotation that fits your budget.
How to choose the wood chipping machine manufacturers?
Before you can settle for a wood chipping machine manufacturer, there are several aspects you need to consider. They include:
Technological advancement
Does the company use modern technology to manufacture its wood chipping machines? If it's still stuck in decades-old tech, you are better off choosing another one. Besides, you should consider the type of tech they are equipping their machines. Is it from established companies or knockoffs? Fortunately, at RICHI we use the latest technology and use components from established companies such as Siemens Motor, SKF Bearings.
Certification
You need to check whether a manufacturing company is registered and recognized by relevant bodies. If not, it is likely to deal with knockoffs, which are not safe and efficient. RICHI is CE & IOS Certified.
Speed of shipping
Another crucial aspect you need to consider is their shipping speed. An ideal company should not take months to deliver your order. Rather, it should take them weeks or a few months depending on your location.
Order tracking
Do they update you about your shipment? If yes, then that is a company to settle. And at RICHI, we do so.
Why buy a wood chipping machine from RICHI?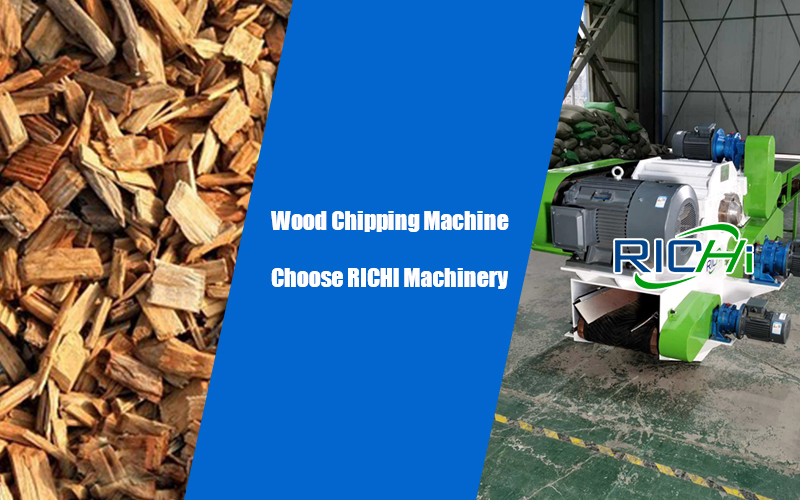 RICHI wood chipping machine has specialized in the wood pellet machinery industry for more than 26 years. What we use in producing machines is the most advanced technology in the industry. We have many professional engineers and technical support teams, providing high-quality machines and exemplary after-sales service.
We have a range of wood chipping machines for sale, contact us for the price list of wood chipping machines.
RICHI Machinery was built in 1995. Our high requirements for machines' quality and the pursuit for perfect after-sales service have supported us for nearly 26 years of continuous development and sales of our machines to more than 110 countries. And RICHI wood chipping machine has passed the CE certification, BV certification. While RICHI Machinery has passed ISO international quality system certification.
At present, RICHI Machinery has grown into a modern enterprise engaged in independent research and development, production and sales, Including feed pellet machinery and engineering, biomass pellet machinery and engineering, organic fertilizer machinery and engineering, conveyor equipment and engineering, steel structure engineering, silos, automation control technology and engineering product development and manufacturing, design and installation.
RICHI Machinery has many kinds of products for sale, contact us to know more about us.