EFB Pellets Mill For Sale
EFB Pellet Machine For Sale
EFB Pellet Making Machine
EFB Pellet Machine Malaysia
EFB Pellet Machine Indonesia
Investing in an EFB pellet mill is an important way to turn this waste into an energy resource. EFB is a special raw material that contains a lot of fibers, so special equipment is required to process it. RICHI can provide a complete EFB pelleting solution to improve the efficiency and output of EFB pellets.
RICHI Machinery is the 26+ years of experience efb pellet machine manufacturer in China. We have sell the pellet machine to 110+ countries, including Malaysia, Indonesia, Philippine, Thailand.
EFB pellets are made by cutting, compressing and granulating empty palm husks by an EFB pellet machine. EFB pellets belong to pellets energy sources, just like wood pellets and sawdust pellets. Because EFB Pellet has high calories, it is widely used as a biofuel resource all over the world.
RICHI Machinery has fully automatic efb pellet machine. All the efb pellet mills are high efficiency and long service life.
Not only supply you high-quality efb pellet making machine but best services. Such as full supporting installation and training, 24/7 service, best after-sale service.
MZLH320 series ring die efb pellet machine ensures high capacity and efficient control of the pelleting process. The efb pellet mill machine is dimensioned for large and designed with exchangeable wear parts.
Power: 37KW
Capacity: 600-800KG/H
Pellet Size: 6-12mm
MZLH350 series efb pellet making machine has wide adaptability. According to different raw materials, different pellets can be produced. Larger feeders increase production capacity and ensure production efficiency.
Power: 55KW
Capacity: 800-1000KG/H
Pellet Size: 6-12mm
This ring die electric efb pellet mill is recommended for efb pellet production plant. Due to the power and voltage, it is not recommended for household pelletizing. It is very suitable for making efb pellets, wood sawdust pellets, and other biomass pellets.
Power: 110KW
Capacity: Capacity: 1.5-2T/H
Pellet Size: 6-12mm
The MZLH520 series efb pellet making machine has a larger ring die and pelletizing chamber to ensure high-efficiency efb pellet production. In order to adapt to lighter raw materials, we have added a forced feeder.
Power: 160KW
Capacity: 3-4T/H
Pellet Size: 6-12mm
MZLH768 series large commercial palm fiber pellet machine is mainly used for the production of biomass pellets. Enlarged feeders and larger ring die sizes are more suitable for palm fiber pellet plants.
Power: 250KW
Capacity: 5-7T/H
Pellet Size: 6-12mm
RICHI palm fiber pellet machine for sale. 26 years of pelleting plant experience, professional design and manufacturing team, overseas installation engineers, competitive factory direct sales prices. Advanced pelleting process technology.
Power: 280KW
Capacity: 8-10T/H
Pellet Size: 6-12mm
Welcome to Visit RICHI EFB Pellet Machine Factory
RICHI supply EFB(Palm Empty Fruit Brunches) pellet making machine. The top pellet machine manufacturer in China, Contact Us get the best price.
RICHI EFB Pellet Machine For Sale
The EFB pellet machine is a device used to manufacture fuel pellets. According to the different raw materials, only need to replace the ring die and adjust the cutter distance to produce different pellets to meet the demand. For example: EFB(Palm Empty Fruit Brunches), straw, wood chips, grass, and other biomass materials, etc.
The reason why customers choose RICHI's pellet machine is not only because we have high-quality products, we can provide perfect biomass pellet production solutions according to customers' different needs and different raw materials, and even our after-sales service is also our major Highlights.
All our efb pellet machine for sale has first-class technology; solid frame; stable motor. There is also a professional overseas installation team; training on the use of the pellet production system. Of course we still have competitive prices.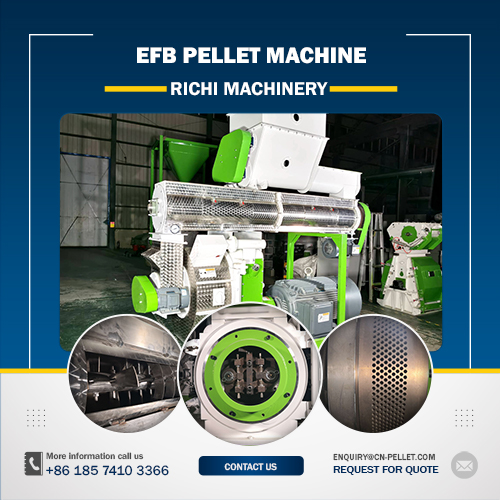 Video For EFB Pellet Machine
You May Also Like Related RICHI Pellet Machine