MZLH350 Wood Pellet Making Machine
RICHI Machinery MZLH350 series wood pellet making machine has wide adaptability. According to different raw materials, different pellets can be produced. Larger feeders increase production capacity and ensure production efficiency.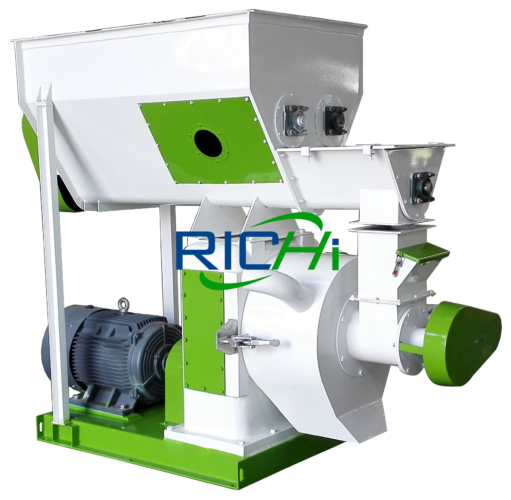 What is wood pellet making machine?
Wood pellet machine is new energy equipment for wood and biomass. It is a pellet making equipment for the production of wood pellets. It uses eucalyptus, birch, poplar, fruit, bamboo, crop straw, and other biomass materials as raw materials, through crushing, drying, pelleting, cooling, packaging, and other processes to produce finished wood pellets. Its finished pellets are used in biomass power generation, industrial boilers, fireplaces, household barbeque, etc.
How does wood pellet making machine work?
The crushed raw materials (wood chips or biomass) enter the mzlh350 wood pellet making machine through the feeder. The high-speed rotating ring die distributes the incoming raw materials on the inner wall and drives the pressure roller to rotate together. The pressing roller squeezes the material to the ring die and extrudes it from the die hole, and finally is cut into the required length by the cutter. This process is called pelletizing.
How much does wood pellet making machine cost?
As a professional pellet machine manufacturer, RICHI needs to talk to some customers who want to buy wood pellet making machines or enter the pelleting industry for the first time.
Generally speaking, the decisive factor for the mzlh350 wood pellet making machine price is the capacity, but different raw materials also restrict the capacity. For example, for the same wood pellet equipment, the output of grass-based raw materials is higher than that of sawdust raw materials. Different raw materials require pretreatment processes, such as wood chipping and crushing. Through different display methods and different natural material processing, we can design various schemes and configurations to ensure the most suitable for customers.
So what is important to us is, what are your raw materials and expected production capacity? Contact us for the quote of wood pellet making machine and customized wood pellet plant.
Where to buy wood pellet making machine from China?
We recommend that customers need to determine the following points before buying wood fuel pellet making machine from a manufacturer:
Is it a real manufacturer or supplier? Where is the address? Can I visit it?
Is the whole pellet plant designed according to different raw materials?
How about the production delivery capacity and delivery time? (Single machine within half a month, production line within one month to two months)
For industrial and commercial activities, we recommend the use of ring die machine for making wood pellets.
RICHI Machinery is a professional pellet machine manufacturer in China, and has a variety of wood pellet manufacturing equipment for sale. In 26 years of development, we have exported to the United States, Australia, Canada, New Zealand, Ireland, India, Germany, Britain, Malaysia, Indonesia, Thailand, and other countries. Welcome to RICHI Machinery.
Why choose wood pellet making machine from RICHI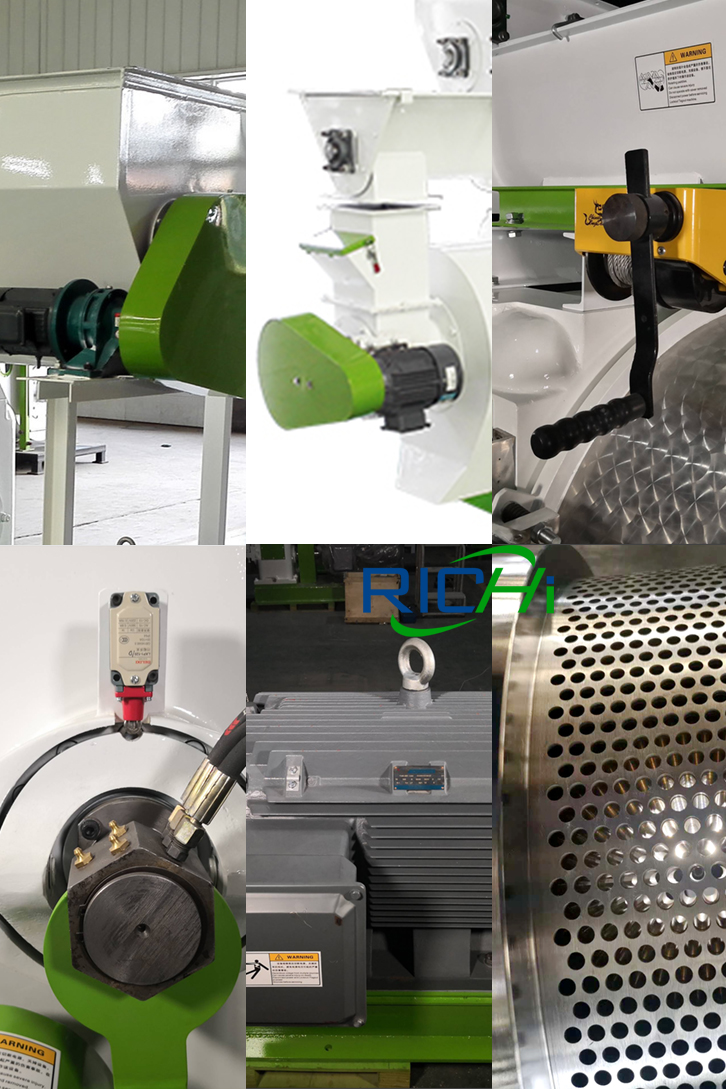 Buy Wood Pellet Making Machine Today
Want to learn more about machine for making wood pellet? Contact us for more information about the wood pellet production process before purchasing wood pellet machinery.
Wood Pellet Making Machine Technical Parameter
| Model | MZLH320 | MZLH350 | MZLH420 | MZLH520 | MZLH768 | MZLH858 |
| --- | --- | --- | --- | --- | --- | --- |
| Anti-caking Feeder Power | 1.5KW | 1.5KW | 1.5KW | 2.2KW | 3KW | 3KW |
| Forced Feeder Power | 0.55KW | 0.55KW | 0.55KW | 0.75KW | 1KW | 1KW |
| Pellet Machine Power | 37KW | 55KW | 110KW | 160KW | 250KW | 280KW |
| Capacity(wood sawdust,biomass) | 300-400KG/H | 500-700KG/H | 1.0-1.2 T/H | 2.0-2.5 T/H | 2.5-4 T/H | 3-4.5 T/H |
| Capacity(grass,straw) | 600-800KG/H | 800-1000KG/H | 1.5-2 T/H | 3-4 T/H | 5-7 T/H | 8-10 T/H |
| Capacity(organic fertilizer) | 1-2 T/H | 3-4 T/H | 5-6 T/H | 7-8 T/H | 9-10 T/H | 10-12 T/H |
| Final Pellet | 6-12mm | 6-12mm | 6-12mm | 6-12mm | 6-12mm | 6-12mm |
| Weight(KG) | 2500 | 3500 | 4000 | 4500 | 5000 | 5500 |
| Dimension(mm) | 2200*900*1300 | 2500*1100*1600 | 2800*1150*1730 | 3000*1260*1860 | 3300*1500*2000 | 3500*1600*2180 |
How To Make A Pellet Machine
Wood pellet making machine is a new energy equipment for biomass energy and the main pellet making equipment for producing wood pellets. Its performance determines the production output of pellets to a large extent, and occupies a very important position in the pellet processing process.
The pellet machine is mainly composed of a feeding system (we add a forced feeder), a modulation system, a pelletizing system (optimized ring die and roller combination to improve pellet formation, improve pellet quality and output), lubrication system, transmission system (shafts are linked to each other), the motor (we promise to use high-quality Siemens motors), etc.
Find More Wood Pellet Making Machines For Sale
Power: 380volt, 37kw, 50hz
Application:

Used for the production of biomass pellets, wood pellets, agricultural and forestry waste pellets

Pellet size: 6-12mm
Power: 380volt, 55kw, 50hz
Application:

Used for the production of biomass pellets, wood pellets, agricultural and forestry waste pellets

Pellet size: 6-12mm
Power: 380volt, 110kw, 50hz
Application:

Used for the production of biomass pellets, wood pellets, agricultural and forestry waste pellets

Pellet size: 6-12mm
Power: 380volt, 160kw, 50hz
Application:

Used for the production of biomass pellets, wood pellets, agricultural and forestry waste pellets

Pellet size: 6-12mm
Power: 380volt, 250kw, 50hz
Application:

Used for the production of biomass pellets, wood pellets, agricultural and forestry waste pellets

Pellet size: 6-12mm
Power: 380volt, 280kw, 50hz
Application:

Used for the production of biomass pellets, wood pellets, agricultural and forestry waste pellets

Pellet size: 6-12mm