How much does the full set of wood pellet making machine price?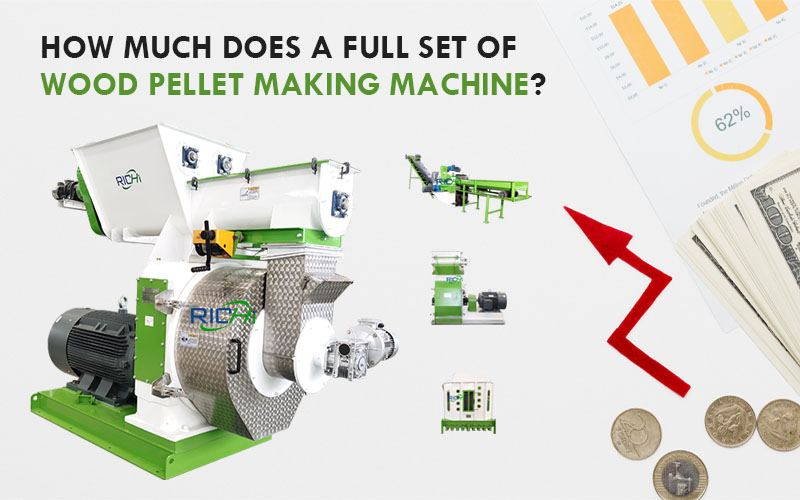 Summary: Many customers are asking about the wood pellet making machine price. Today, RICHI is here to answer your questions.
The wood pellet production is a complex and delicate process. Each link of the entire wood pellet production line requires different equipment to cooperate with each other. The single wood pellet machine price ranges from about 20,000 to 100,000 US dollars. But a complete wood pellet production line price ranges from tens of thousands, hundreds of thousands to millions of dollars. The specific price depends on the design, configuration and output of the entire pellet plant.
Wood pellet making machines are divided into vertical ring die pellet machine and horizontal ring die pellet machine. Today we are discussing the horizontal wood pellet making machine price and how to choose it.
RICHI wood pellet making machine is a kind of pellet fuel forming machine using agricultural waste such as corn stalks, straw stalks, sawdust, wood powder, sawdust, etc. as raw materials. The final wood pellets are mainly used in fireplaces, boilers, and biomass power plants.
MZLH320 series ring die wood pellet machine ensures high capacity and efficient control of the pelleting process. The wood pellet mill machine is dimensioned for large and designed with exchangeable wear parts.
Power: 37KW
Capacity: 600-800KG/H
Pellet Size: 6-12mm
MZLH350 series ring die wood pellet making machine has wide adaptability. According to different raw materials, different pellets can be produced. Larger feeders increase production capacity and ensure production efficiency.
Power: 55KW
Capacity: 800-1000KG/H
Pellet Size: 6-12mm
This ring die electric wood pellet mill is recommended for straw pellet production plant. Due to the power and voltage, it is not recommended for household pelletizing. It is very suitable for making straw pellets, alfalfa pellets, forage pellets, wood sawdust pellets, and other biomass pellets.
Power: 110KW
Capacity: Capacity: 1.5-2T/H
Pellet Size: 6-12mm
The MZLH520 series wood pellet maker has a larger ring die and pelletizing chamber to ensure high-efficiency straw pellet production. In order to adapt to lighter raw materials, we have added a forced feeder.
Power: 160KW
Capacity: 3-4T/H
Pellet Size: 6-12mm
MZLH768 series large commercial wood pellet press is mainly used for the production of biomass pellets. Enlarged feeders and larger ring die sizes are more suitable for straw pellet plants.
Power: 250KW
Capacity: 5-7T/H
Pellet Size: 6-12mm
RICHI wood pelletizer for sale. 27 years of pelleting plant experience, professional design and manufacturing team, overseas installation engineers, competitive factory direct sales prices. Advanced pelleting process technology.
Power: 280KW
Capacity: 8-10T/H
Pellet Size: 6-12mm
The above are the various types of wood pellet making machines of RICHI Machinery. The main difference lies in output, power, size, weight, etc. The number represents the size of the ring die, the larger the number, the larger the ring die, the higher the corresponding output. Of course, the output is also closely related to the raw materials, and different raw materials restrict the production of wood pellet making machines. Therefore, when customers inquire about the wood pellet making machine price, we often ask customers two basic questions: What are your raw materials and what is your expected output?
We also hope that customers can understand the wood pellet machine manufacturer like us. We must be responsible for you. Only by understanding your needs can we truly design the most suitable wood pellet production plan for you.
Such wood pellet production line also has other production equipment, such as wood chipper, wood crusher, sawdust dryer, pellet cooler and so on. The price is also determined according to the customer's raw materials and output, we will not repeat them here today. If you really have the need to build a wood pellet plant, and now you are looking for a complete set of wood pellet making machine price. Then please contact RICHI Machinery directly, we will customize a complete wood pellet production solution for you according to your needs.
Core Equipment of Wood Pellet Production Line
RICHI Pellet Machine For Sale