Pellet fuel and wood pellets fuel making machine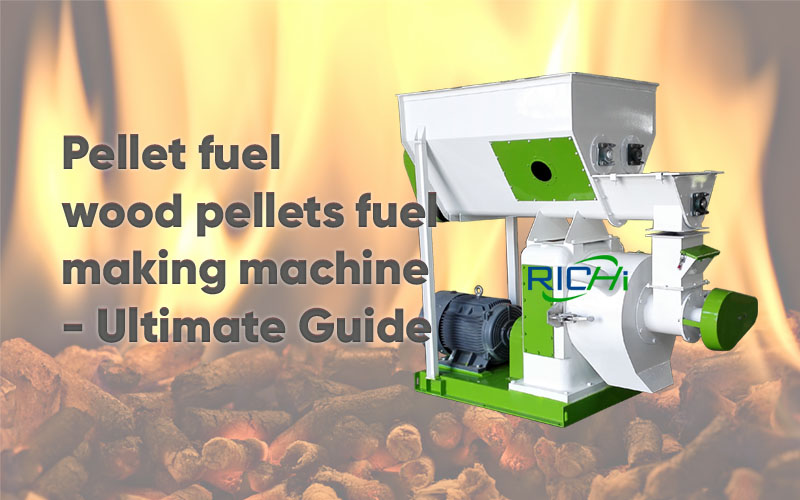 As a form of wood pellet fuel, it is usually made by wood pellets fuel making machine. Sawdust or waste from sawmills and other wood products are its raw material sources. Pellet fuel is heating fuel made from compressed biomass. The most common type is wood pellets.
Other woody biomass energy sources include palm kernel shells, coconut shells, and treetops and branches left over from whole tree removal or after logging that would otherwise help replenish soil nutrients. There are also grasses that can be pelletized to form grass pellets.
Wood pellets fuel are manufactured into several types and grades of fuel for power plants, homes, and other applications in between. They are very dense and can be produced with low moisture content (less than 10%), allowing them to be incinerated with very high combustion efficiency.
In addition, their regular geometry and small size enable very fine calibration of the automatic feed. They can be fed to the burner by auger feed or by pneumatic conveying. Their high density also allows for compact storage and reasonable long-distance transport. Easily blown into storage bins or silos at the customer's premises in a tanker truck.
Since 1993, a wide range of pellet stoves, central heating stoves, and other heating appliances have been developed and sold. With fossil fuel prices soaring since 2005, demand for pellet heating has increased in Europe and North America, and a huge industry is emerging. Production of wood pellets fuel has doubled between 2006 and 2010 to more than 14 million tonnes, according to the IEA's Task 40 working group. In a 2012 report, the Biomass Resource Center said it expected wood pellets fuel production in North America to double again over the next five years.
How wood pellets fuel are produced?
It is made by first turning the wood material into a uniform powdery substance through a hammer mill, and then compressing it. These materials are fed into a wood pellets fuel making machine. Here, they are extruded into pellets through a ring die(usually 6 mm in diameter, sometimes 8 mm or larger). The high pressure of the wood pellet mill greatly increases the temperature of the wood, and the lignin is lightly plasticized to form a natural "glue" that holds the pellets together as it cools.
Pellets can be made from grass biomass and other non-woody forms that do not contain lignin: Dried distillers grains (a by-product of the brewing industry) can be added to provide the necessary durability. A 2005 news report from Cornell University News indicated that grass pellet production is more advanced in Europe than in North America. The benefits it recommends as a raw grass include its short growth time (70 days) and ease of growing and processing. The story quotes Jerry Charney, a professor of agriculture at the school, stating that grass produces 96 percent of the heat of wood, and that "any mixture of grass can be used, cut in mid to late summer, left in the field to leach minerals, then packaged and pelletized. The hay from which pellets are made does not need to be dried, making processing less expensive than wood pellets."
Energy output and efficiency
The energy content of wood pellets is approximately 4.7 – 5.2 MWh/ton (~7450 BTU/lb).
High-efficiency wood pellet stoves and boilers have been developed in recent years, often providing combustion efficiencies in excess of 85%. Pellet boilers have limited control over the rate and presence of combustion relative to liquid or gas-fueled systems; however, this makes them more suitable for hot water systems, which have greater stored heat Ability. Pellet burners that can be retrofitted into oil-fired boilers also exist.
Particle combustion equipment emissions such as nitrogen oxides (NOx), sulfur oxides (SOx) and volatile organic compounds are generally very low compared to other forms of combustion heaters. Another consideration is the emissions of air pollutants resulting from such production of energy used to make the pellets. A recognized problem is airborne emissions of fine particulate matter, especially in close proximity to urban areas with high concentrations of particulate heating systems or coal or oil heating systems.
Suspended particulate PM2.5 emissions from older pellet furnaces and boilers can be problematic at close range, especially when compared to natural gas (or renewable biogas), although in larger installations of electrostatic precipitators, cyclones Separators, baghouses or particulate filters can control suspended particulate PM2.5 when properly maintained and operated.
Usage varies across Europe due to different government regulations. In the Netherlands, Belgium and the UK, pellets are mainly used in large power plants. In Denmark and Sweden, pellets are used in large power plants, medium-scale district heating systems, and small-scale residential heating. In Germany, Austria, Italy and France, pellets are mostly used for small-scale residential and industrial heat.
In the EU, the largest users of wood pellets are the UK, Denmark, the Netherlands, Sweden, Germany and Belgium.
Sweden uses pellet fuel extensively, and Sweden is a major producer of pellet fuel in Europe, primarily as an alternative fuel for central heating systems. In Austria, the leading market for pellet central heaters (relative to its population), it is estimated that 2/3 of all new home heaters are pellet burners. In Italy, a large market for pellet stoves with automatic pellet fuel delivery has been developed. The main use of pellet fuel in Italy is for heating small-scale private homes and industrial boilers.
In 2003, total sales of wood pellets in New Zealand ranged from 3 to 5,000 tonnes. The recently constructed new wood pellet plant has significantly increased production capacity.
Some companies import boilers made in Europe. As of 2009, about 800,000 Americans used wood pellets for heat. It is estimated that in 2013, 2.33 million tons of wood pellets will be used for heating in the United States.
Wood Pellets Fuel Making Machine List
MZLH320 series ring die wood pellet machine ensures high capacity and efficient control of the pelleting process. The wood pellet mill machine is dimensioned for large and designed with exchangeable wear parts.
Power: 37KW
Capacity: 600-800KG/H
Pellet Size: 6-12mm
MZLH350 series ring die wood pellet making machine has wide adaptability. According to different raw materials, different pellets can be produced. Larger feeders increase production capacity and ensure production efficiency.
Power: 55KW
Capacity: 800-1000KG/H
Pellet Size: 6-12mm
This ring die electric wood pellet mill is recommended for straw pellet production plant. Due to the power and voltage, it is not recommended for household pelletizing. It is very suitable for making straw pellets, alfalfa pellets, forage pellets, wood sawdust pellets, and other biomass pellets.
Power: 110KW
Capacity: Capacity: 1.5-2T/H
Pellet Size: 6-12mm
The MZLH520 series wood pellet maker has a larger ring die and pelletizing chamber to ensure high-efficiency straw pellet production. In order to adapt to lighter raw materials, we have added a forced feeder.
Power: 160KW
Capacity: 3-4T/H
Pellet Size: 6-12mm
MZLH768 series large commercial wood pellet press is mainly used for the production of biomass pellets. Enlarged feeders and larger ring die sizes are more suitable for straw pellet plants.
Power: 250KW
Capacity: 5-7T/H
Pellet Size: 6-12mm
RICHI wood pelletizer for sale. 27 years of pelleting plant experience, professional design and manufacturing team, overseas installation engineers, competitive factory direct sales prices. Advanced pelleting process technology.
Power: 280KW
Capacity: 8-10T/H
Pellet Size: 6-12mm
Core Equipment of Wood Pellet Production Line
RICHI Pellet Machine For Sale