What you need to know about Biomass Pellet Machinery 2022?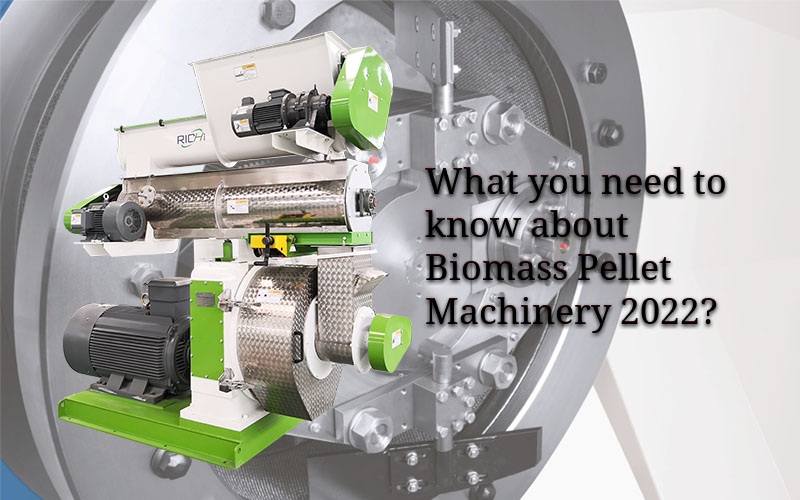 Biomass pellet machinery is a kind of biomass energy pretreatment equipment. It mainly uses biomass such as wood chips, straws, rice husks, and bark from agricultural and forestry processing wastes as raw materials, which are solidified and formed into high-density pellet fuels through pretreatment and processing.
1, Introduction to Biomass Pellet Machinery
The biomass granulator is divided into two types: horizontal and vertical, both of which use ring die, but have different structures. Using biomass such as wood chips, straw, rice husk, and bark in agricultural and forestry processing waste as raw materials, after pretreatment, it is solidified into high-density pellet fuel.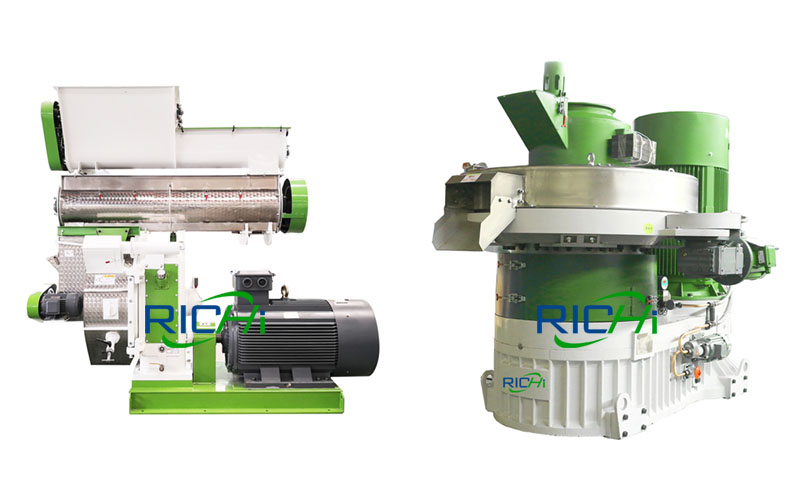 2, Advantages of Biomass Pellet Machinery
Countries around the world are carrying out coordinated governance and management of energy and the environment to varying degrees. Straw fuel (that is, biofuel) is based on the solid waste of crops such as corn stalk, wheat straw, straw, peanut shells, corn cobs, cotton stalks, soybean stalks, weeds, branches, leaves, sawdust, bark, etc. , pressurized, densified and shaped by biomass pellet machinery, eventually becoming solid biomass pellet fuel.
Pellet fuel is made by extruding wood chips, straw and other raw materials through pressing rollers and ring die under normal temperature conditions. The density of raw materials is generally around 0.6-0.8, and the density of formed particles is greater than 1.1, which is very convenient for transportation and storage. At the same time, its combustion performance is greatly improved, reducing human dependence on petrochemical energy and atmospheric emissions.
3, Process Flow of Biomass Pellet Machinery
Raw material preparation
Raw material handling – chipping/crushing
Raw material drying
Cooling
Screening
Packing

4, Characteristics of Biomass Pellet Fuel
The characteristics of biofuels; the formed pellet fuel has a large specific gravity, a small volume, and is resistant to combustion, which is convenient for storage and transportation. The density after molding is 1.1-1.5. The calorific value can reach 3400~4800 kcal. It is a solid fuel with high volatile content and low sulfur content.
5, The Performance Index of Biomass Pellets
Density >1.1-1.5t/m3
Appearance Light yellow cylindrical φ6-10mm
Ash content ≤2%
Moisture ≤7-10%
Combustion rate ≥98%
Thermal efficiency ≥81%
Smoke blackness (Lingemann grade) <1
Dust concentration ≤80mg/
6, Uses of biomass Pellet Fuel
The formed biomass pellet fuel is a new type of biomass energy, which can replace firewood, raw coal, fuel oil, liquefied gas, etc., and is widely used in heating, living stoves, hot water boilers, industrial boilers, biomass power plants, etc.
7, How to Choose the Right Biomass Pellet Machinery
RICHI is a biomass pellet machinery manufacturer and exporter of professional biomass pellet mills and related equipment. We provide biomass pellet production solutions, equipment and services to customers in more than 110 countries. we suggest:
Choose a manufacturer instead of a trading company;

Choose a company that can offer different solutions;

The plan configuration priority is higher than the price.
RICHI Biomass Pellet Machinery List
MZLH320 series ring die wood pellet machine ensures high capacity and efficient control of the pelleting process. The wood pellet mill machine is dimensioned for large and designed with exchangeable wear parts.
Power: 37KW
Capacity: 600-800KG/H
Pellet Size: 6-12mm
MZLH350 series ring die wood pellet making machine has wide adaptability. According to different raw materials, different pellets can be produced. Larger feeders increase production capacity and ensure production efficiency.
Power: 55KW
Capacity: 800-1000KG/H
Pellet Size: 6-12mm
This ring die electric wood pellet mill is recommended for straw pellet production plant. Due to the power and voltage, it is not recommended for household pelletizing. It is very suitable for making straw pellets, alfalfa pellets, forage pellets, wood sawdust pellets, and other biomass pellets.
Power: 110KW
Capacity: Capacity: 1.5-2T/H
Pellet Size: 6-12mm
The MZLH520 series wood pellet maker has a larger ring die and pelletizing chamber to ensure high-efficiency straw pellet production. In order to adapt to lighter raw materials, we have added a forced feeder.
Power: 160KW
Capacity: 3-4T/H
Pellet Size: 6-12mm
MZLH768 series large commercial wood pellet press is mainly used for the production of biomass pellets. Enlarged feeders and larger ring die sizes are more suitable for straw pellet plants.
Power: 250KW
Capacity: 5-7T/H
Pellet Size: 6-12mm
RICHI wood pelletizer for sale. 27 years of pelleting plant experience, professional design and manufacturing team, overseas installation engineers, competitive factory direct sales prices. Advanced pelleting process technology.
Power: 280KW
Capacity: 8-10T/H
Pellet Size: 6-12mm
Core Equipment of Wood Pellet Production Line
RICHI Pellet Machine For Sale