Wood Pellet Manufacturing Plant In Indonesia With 1-2T/H Capacity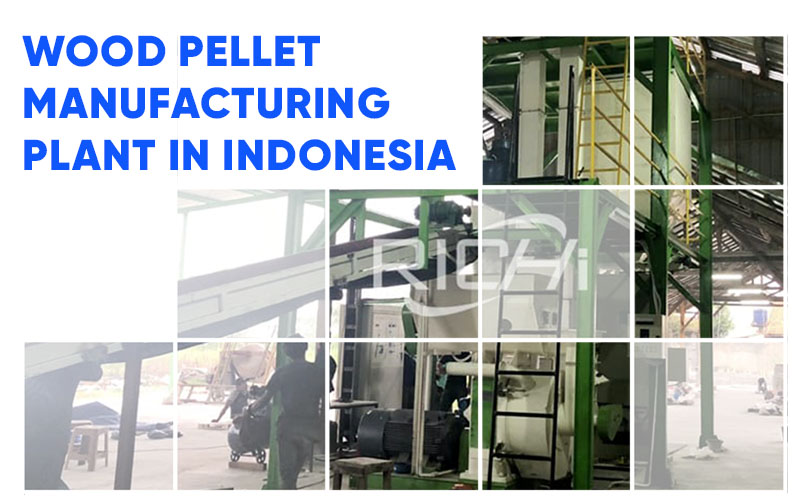 WOOD PELLET MANUFACTURING PLANT
Since 2016, Indonesia's biofuel pellet production has surpassed Thailand for the first time, ranking first in Asia, an increase of 84.3% from 2015, making it the country with the fastest growth in biofuel pellet production in the world. In the past ten years, with the economic recovery and rapid growth of energy consumption in Indonesia, accelerating the development of renewable energy has become an important task of the Indonesian government. Therefore, more and more wood pellet manufacturing plant in Indonesia have been established.
Indonesian customers have abundant sources of wood waste. Day after day, how to deal with these materials in a more profitable manner has become an urgent issue. So he invested in his first high-quality wood pellet manufacturing plant in Indonesia with a 1-2t/h capacity in 2017. The investment is approximately USD 400,000. In his newly designed biomass fuel wood pellet production line with a capacity of 1-2 tons per hour, logs and wood chips harvested from the forest, leftovers and sawdust from furniture factories are used as raw materials for the manufacture of wood pellets. The moisture content of the log is about 60%, and the leftover material is 18%. The wood pellets are sold to local pellet retailers. In general, the wood pellets are ultimately used to burn industrial boilers.
In order to make the mixed raw materials into wood pellets, my customer purchased 2 sets of ring die waste wood pellet machines and other equipment from RICHI, a well-known Chinese wood pellet manufacturing plant supplier in Indonesia. The easy-to-operate 1-2t/h whole wood pelletizing production line is composed of raw wood cutters, high-quality wood chippers, wooden hammer mills and other raw material adjustment equipment (logs and leftovers can be appropriately adjusted before pelletizing). Professionally manufactured sawdust dryer, MZLH420 sawdust pellet press, screening machine, pellet cooler, packaging machine, etc. During the test, the biomass sawdust drum dryer, sawdust pelletizer and other components worked normally after some adjustments, and produced high-quality sawdust pellets. In the first few test days, the customer delivered 2 trucks of finished pellets per day (approximately 15-20 tons of pellets).
How does this 1-2t/h wood pellet manufacturing plant in Indonesia work?
Step 1: Raw materials preparation
The raw materials of this wood pellet manufacturing plant in Indonesia with 1-2tph capacity is wood log from wood dealers and off-cuts and sawdust form furniture factory. The moisture content of the wood log is high up to 60% percent which needs to be chipped and then dried. A hot sale wood chipper crusher and high quality wood sawdust dryer machine in the wood pellet production factory project are used for this purpose. For wood logs, a wood log cutter is needed to face this challenge.
Step 2: Wood materials processing
The cut logs will be further processed by a wood hammer mill for wood chips and a wood crusher machine for making sawdust. The fined particles will be dried until the moisture content is around 15%. When the fined materials are ready, they will be conveyed into the wood pellet making machines.
Step 3: Wood pelletizing process
A ring die good stability wood pellet mill is typically used for high return 1-2tph wood pellet manufacturing plant in Indonesia. It is well-known for longer working life and lower investment. Here are some tips while operating biomass fuel wood pellet mill:
Proper adjusting and periodical maintenance of rollers which should be checked after every 10 hours, every 48 working hours, demounting and adjusting if necessary.
Proper training is required for new wood pelleting equipment operators.
When unexpected noise happens inside the press chamber, try adjusting relative movement between rollers and dies.
Step 4: Packaging and storage of wood pellets
In this reasonable design new wood pellet manufacturing plant in Indonesia, the wood fuel pellets are packed in 15kg bags. An automatic wood pellet packaging machine and scale are equipped. When you store wood pellets in separate bags, follow these rules:
Wood pellets should be kept from moisture and humidity, which may rotten the pellets. And it's best to place the wood pellet bags indoors, such as, garage and basement, etc.
If the pellets have to be placed outdoor, the shelter or cover is necessary to keep them dry. It would be better to keep the wood pellets bags off the ground by stacking them on pallets. And while stacking the pellets bags, attention is required to the holes on the bags which need to be repaired by water proof tapes, such as duct tape. The stacked pellets bags should be properly covered and fastened to keep them dry and safe from being broken.
The pellets should be kept from the direct sunlight, which may higher the storage temperature and increase the chance of fine percentage.
The pellets should be kept in a well ventilated place because monoxide gas may be released from the pellets stored, especially in a warm environments. Be aware of the CO poisoning.
Quality standard of wood pellets:
This Indonesia client has passed the CEN/TS 14778-1 standards for biomass fuel, check the result:
Core Equipment of Wood Pellet Production Line
RICHI Pellet Machine For Sale